Tahrir al-Sham has closed down branches of the Free Aleppo University and International Rescue University over the objections of faculty and students.
The decision came after the universities' administrations refused to comply with the orders of the so-called "salvation government", which is Tahrir al-Sham's political front.
The institutions rejected decisions that would have led to the extremist alliance gaining control over the universities and their curricula, Idlib activist Musab Assaf told Diyaruna.
Since the decision to close down the Free Aleppo University and International Rescue University was issued by the salvation government's Higher Council of Universities, tensions have roiled parts of Aleppo and Idlib provinces, he said.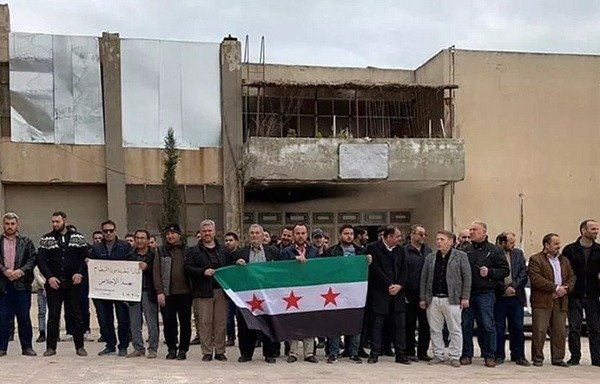 Tahrir al-Sham's attempts to gain control over the administrations and curricula in the two universities were seen by the faculty, staff and students as being motivated by non-educational objectives, he said, and there were concerns this would lead to slanting the curricula towards Tahrir al-Sham's ideology and aims.
"Teaching staffs and students are continuing their activism, with demonstrations and campaigns held in more than one area with the aim of forcing the council to rescind its decision," Assaf said.
Threats issued to students
Tensions arose at the last meeting between the Higher Council of Universities representative and a delegation of students, faculty and administrators after the students were threatened with arrest and expulsion.
The extremist alliance threatened to "remove them from the area it controls, just as it does with its other opponents", he said.
The academic future of thousands of students now hangs in the balance after Tahrir al-Sham gave them permission to transfer to Aleppo University only, he said, which is beyond most students' financial means.
An additional obstacle is the difficulty of transportation from rural areas, he said.
These factors combined will prevent many students from attending university, and will drive dozens of professors, staff and administrators and workers into unemployment, he said.
This adds to the unemployment problem "in an area where employment is a precious treasure that is not easily found", Assaf said.
Tahrir al-Sham elements have detained two Free Aleppo University administrators: the university's vice president for science, Imad Khattab, and finance office director Ahmed Rabih Bello.
They also detained a student, Mohammed Bishr al-Bashi, for reasons related to the demonstrations, and removed the contents of the universities' branches and hauled them away to an unknown location, Assaf said.