Iraq has begun construction of a joint industrial city with Jordan in a remote western desert area of Anbar province, officials said.
The city, set to be completed by the end of 2019, will be built on the border between Iraq and Jordan, near the Trebil border crossing with the kingdom.
The border crossing was reopened in 2017 after being closed for three years due to security concerns in the aftermath of the "Islamic State of Iraq and Syria" (ISIS) occupying large swathes of Iraq.
"The central government in Baghdad and the local government of Anbar, in prior agreement with Jordan, have started building the first joint industrial city between the two countries," said Anbar provincial council member Hamid al-Dulaimi.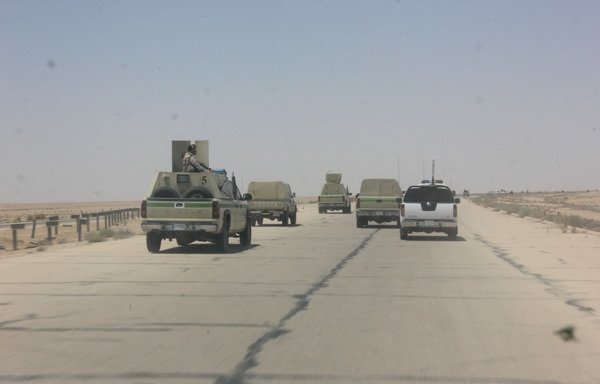 The industrial zone, which will span an area of 24 square kilometres, will include offices, shops, restaurants, rest areas, large parking spaces for vehicles and trucks, travel agencies, exchange bureaus and vehicle service shops.
Expanding trade with neighbouring countries
Anbar's local government seeks to launch "large-scale services and projects, especially on the border between Iraq and the neighbouring countries of Syria, Jordan and Saudi Arabia", al-Dulaimi said.
The expansion of industrial and service projects will provide jobs for the unemployed and boost the economy throughout Anbar, he told Diyaruna.
The construction of the joint industrial city was funded by a grant from the Jordanian government, Anbar provincial council member Amira Aday told Diyaruna.
The project will not only create jobs for Anbari youths, she said, but will also provide administrative, industrial and financial services for passengers travelling between Iraq and Jordan.
It also will serve to expand trade between the two countries, she added.
"The next period will see the implementation of large-scale projects, particularly at the border," Aday said, "in order to ensure the continuous movement of trade between Iraq and its neighbouring countries".
Investment opportunities
The Anbar Investment Directorate is working to identify investment opportunities and service projects to develop the province's border crossings with Jordan, Saudi Arabia and Syria, said directorate engineer Rajab Iyada al-Mohammadi.
"The international highway is one of our next priorities," he told Diyaruna, noting the effort will involve constructing service and industrial projects along the highway.
This will create engineering and technical job opportunities for youths, he said.
"Foreign, Arab and Iraqi companies are working to identify investment opportunities in Anbar," said al-Mohammadi, particularly in the Upper Euphrates region in western Anbar which is rich in mineral and natural resources and comprises rivers, lakes and a vast desert.
"Foreign companies are implementing big projects in Anbar, such as the construction of a highly advanced [smart] city on the banks of Lake Habbaniyah in eastern Ramadi," he said.
Other projects include building housing units and factories across Anbar, he said.
Anbar is entering a phase of heightened economic, service and trade activity at its border crossings with Syria, Jordan and Saudi Arabia following ISIS's defeat, economist Nathim al-Jabiri told Diyaruna.
"Now, Arab and foreign companies are investing in Anbar," he said.
Most of the projects that will soon be implemented in the province are investment opportunities that will help boost the local economy and create jobs, he said.