Three displacement camps in Kirkuk province have been shut down after the camp residents returned to their homes, the province's administration said Tuesday (March 26th).
Since the end of 2018, Kirkuk "has been able to close down three displacement camps after all of the internally displaced persons (IDPs) living in them have returned to their areas of residence", said Kirkuk media director Marwan al-Ani.
This is part of "a central government intention to make this year a decisive year for ending the displacement problem and closing all camps", he told Diyaruna.
The camps that have been closed had been established in the towns of Lailan and Daqouq to provide shelter to thousands of IDPs, most of whom hailed from al-Hawijah in western Kirkuk.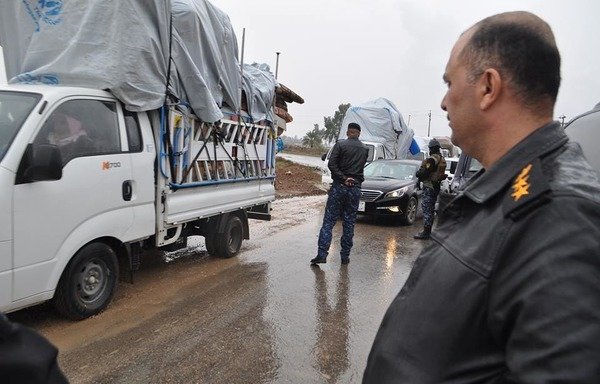 "Local efforts are continuing towards closing down the remaining camps in the province in co-operation with the Ministry of Migration and Displacement and international organisations," al-Ani said.
The families residing in these camps are being screened at this time to ensure they do not belong to or support extremist groups, he said.
"After the audit is completed, we will bring back these IDPs to their areas of residence and close down their camps," he said, stressing that this will only occur when these areas are stable in terms of both security and services.
Camps begin to empty
By the end of last year, there were seven camps in Kirkuk, accommodating about 8,000 displaced families, al-Ani said.
Some 2,000 families -- around 9,000 people in total -- are still living in the four displacement camps that remain open, he added.
IDPs in the province can be divided into roughly three groups, he explained.
The first "are residents of Kirkuk, specifically al-Hawijah, and most of those have returned to their city and villages and are now living their daily life as normal", he said.
"The second group of IDPs are residents of neighbouring provinces such as Ninawa, Salaheddine and Diyala, who took refuge in Kirkuk years ago as result of terrorist and military operations," he said.
"Some of these people are still in camps, and it is hoped that their issues can be resolved and they can be returned to their home provinces," he said.
The third group are the residents of 116 Kirkuk villages -- about 70,000 people in total -- that were destroyed during the battle against the "Islamic State of Iraq and Syria" (ISIS).
"A few of them are in camps, but the majority have rented homes or are living with their relatives in the city of Kirkuk, or have left the province," he said.
"Today it is difficult to bring them back before their villages are rebuilt."