Jaish Maghawir al-Thawra has been taking extraordinary measures to prevent "Islamic State of Iraq and Syria" (ISIS) elements fleeing the Deir Ezzor enclave of al-Baghouz from infiltrating into the al-Rukban area, a local activist said.
The Free Syrian Army (FSA) faction, which is backed by the international coalition, has a presence in al-Rukban displacement camp and the surrounding desert, known as Area 55.
It has been implementing tough security measures since the discovery that ISIS elements fleeing al-Baghouz had attempted to enter the area or pass through it towards the badiya (desert) region, activist Tariq al-Nuaimi told Diyaruna.
ISIS continues to maintain a presence in the desert, he said.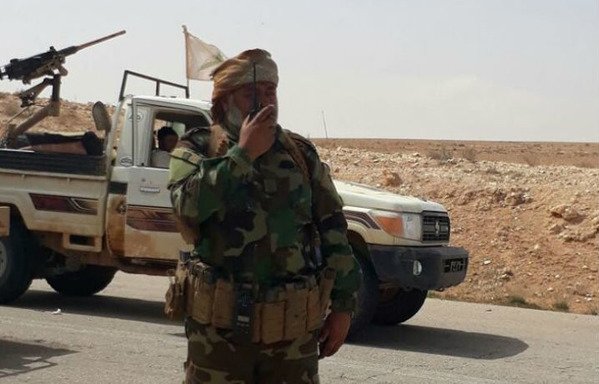 "Jaish Maghawir al-Thawra has so far been able to detain more than 250 ISIS elements," al-Nuaimi said.
This figure is likely to rise, he added, given the large number of ISIS elements who are refusing to surrender to the Syrian Democratic Forces (SDF) battling the group in its last enclave.
Expanded security measures
As part of expanded security measures, Jaish Maghawir al-Thawra has been intensifying its round-the-clock patrols in the area, and has been questioning suspicious individuals to ascertain they are not ISIS elements, al-Nuaimi said.
"It is very difficult to monitor the desert areas, and is getting more so due to turbulent weather and sand storms that can drop visibility to near zero," he said.
Other security measures taken by Jaish Maghawir al-Thawra include a total ban on weapon carrying inside al-Rukban camp, and the imposition of fines of up to $1,000 for any violators.
Entry and exit from the camp also has been restricted to the main gate.
An al-Rukban police force has been activated and tasked with monitoring the situation inside the camp and maintaining security, al-Nuaimi added.
"Camp residents have been emphatically warned not to provide any form of assistance to ISIS elements," he said, adding that violators will be subject to legal prosecution.
According to al-Nuaimi, other armed opposition groups in the area are in consensus on the measures introduced by Jaish Maghawir al-Thawra.
Among them are the Martyr Ahmad al-Abdo Forces, Jaish Usud al-Sharqiya, Jaish Ahrar al-Ashaer and Liwa Shuhada al-Qaryatayn, he said.