Iran-backed Iraqi militias have been implicated in the sale of weapons left behind by the "Islamic State of Iraq and Syria" (ISIS) in northern and western Iraq, military and government officials told Diyaruna.
The preponderance of illegal weapons in circulation makes the work of the army and police more challenging, they said, noting that security forces have been targeting known weapons markets in Baghdad and southern and central Iraq.
According to Iraqi officials, armed militias have seized thousands of medium and light weapons, mortars and ammunition left behind by ISIS.
Iraqi law stipulates that these weapons should be handed over to Iraqi forces to be destroyed, but in some cases, they are being retained or reused by militias.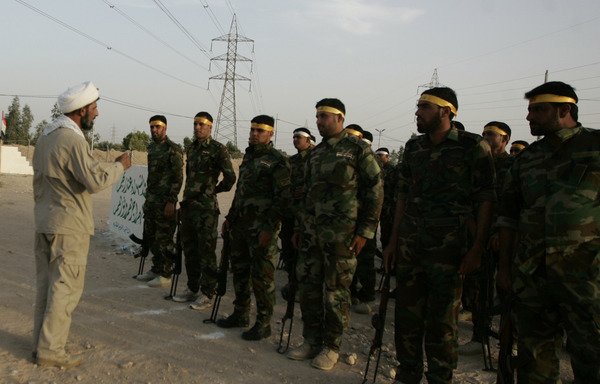 "This phenomenon of weapons markets cropping up in several parts of Iraq is happening because ISIS weapons are somehow ending up in the hands of arms dealers," said Col. Mohammed al-Hassani of the Baghdad Operations Command.
These dealers are linked to armed factions in conflict areas such as Mosul, Fallujah, Baiji, al-Hawijah and al-Qaim "that sell them on to armed gangs, smugglers and quarrelsome tribes that are known to stir trouble", he told Diyaruna.
Some arms also have been smuggled into Iran, he added.
Illegal arms dealing
Al-Hassani confirmed there have been recent crimes and tribal conflicts in which weapons that had belonged to ISIS were used, which had been sold to the perpetrators by various armed factions.
Iraqi forces are continuing to hunt down arms dealers, who have been selling off their merchandise through various means, with some even creating Facebook pages for this purpose, he said.
Arms sales usually take place in private houses, shops or unoccupied residential buildings, he said, and deals are typically made over the telephone or internet.
Weapons that have been sold in this way include Russian-made shoulder-launched rocket propelled grenades (RPG-7) and SPG-9 anti-tank guns, he said.
"The security forces have succeeded in targeting dozens of gangs that illegally sell weapons and have confiscated large quantities of those weapons," Joint Operations Command spokesman Brig. Gen. Yahya Rasul told Diyaruna.
They are continuing to hunt down those arms dealers, he said.
Rasul noted that Iraqi law treats those involved in arms dealing the same as those involved in terrorist operations that pose a security threat to the country.
"Terrorism charges already have been brought against some of them," he said, stressing that any party involved in buying or selling weapons will be brought to justice.
Civilians can help by reporting arms dealers to the authorities, he added.
Iran-backed militias implicated
Iran-backed militias such as Asaib Ahl al-Haq, Kataib Hizbullah, al-Khorasani, al-Tufuf and Saraya al-Salam have been involved in moving these weapons, said Lt. Col. Abdallah al-Saidi of the Interior Ministry's tribal affairs directorate.
Arms and ammunition are taken from the battlefield to southern Iraq, where there is usually demand for them, he said, noting that this trafficking in illegal weapons only serves to spread chaos within the tribal areas of this region.
Al-Kut resident Mohammed Mujhid told Diyaruna his brother was killed in December during a disagreement with his neighbour over irrigation issues.
The killer confessed he had bought a Kalashnikov rifle and a hand grenade from a member of al-Khorasani brigade, who had collected a large quantity of weapons left behind by ISIS and sold them off to civilians at low prices.
"The militias have started moving weapons from combat areas and selling them here," he said, adding that "they are being used to kill innocent people while also enriching militias".
These weapons should be confiscated and kept in government storage facilities rather than being sold on the black market, he said.