The Syrian Democratic Forces (SDF) said Wednesday (March 13th) the "Islamic State of Iraq and Syria" (ISIS) was living its "final moments" after thunderous shelling on its last scrap of land in eastern Syria prompted 3,000 extremists to surrender.
But the die-hard ISIS fighters who stayed to defend the remnants of their proto-state struck back with a wave of suicide bombings, according to the Arab-Kurd alliance.
ISIS once ruled over millions in a swathe of Syria and Iraq, but it has since lost all that territory except for a riverside slither in the village of al-Baghouz near the Iraqi border.
Thousands of men and women have poured out of the pocket in recent weeks, hampering an advance by the SDF, who have paused their offensive multiple times to allow evacuations.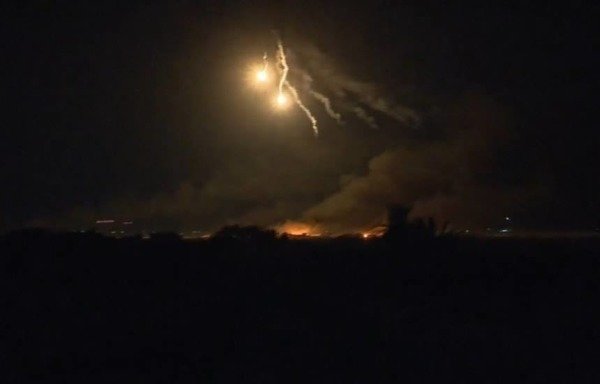 Supported by airstrikes by the international coalition, the SDF resumed artillery shelling on Sunday after warning holdout ISIS fighters their time to surrender was up.
For three nights in a row, the SDF unleashed a deluge of fire on ISIS outposts, engulfing their makeshift encampment in a ravaging blaze.
"ISIS's final moments have started," SDF official Jiaker Amed told AFP.
There was a halt in airstrikes on Wednesday morning, but clashes continued as the SDF worked to thwart an ISIS counterattack launched in the early hours of the day, he said.
The official said the SDF were pounding extremists with heavy artillery to hamper the offensive, which ISIS launched from several fronts following fierce clashes on Tuesday night.
"We are still countering the assault until this very moment," he said.
"This could be their final attack."
An SDF fighter in al-Baghouz said ISIS was using "many suicide bombers" in its counterattack, which it launched after day break under cover of a sand storm.
'The final hour'
The SDF have so far suffered minor losses, with about 10 of their fighters sustaining "medium wounds", SDF officer Farhad Khoja told Diyaruna Tuesday.
Engineering teams have been clearing the roads of mines and booby traps planted by ISIS elements to impede the SDF's advance, he said.
Outside al-Baghouz, an AFP correspondent saw dozens of evacuees sitting in clusters on a field dotted with yellow flowers, a day after thousands of the last survivors of ISIS handed themselves over to the SDF.
SDF spokesman Mustafa Bali said around 3,000 extremists had handed themselves over to the SDF over the past 24 hours.
"The battle is ongoing and the final hour is now closer than ever," he said on Twitter.
But an SDF official said on Wednesday that "it appears as though many fighters remain inside" the last pocket.
Coalition spokesman Sean Ryan on Wednesday said ISIS has no room to manoeuvre.
"There is no freedom of movement at night for the enemy," he told AFP.
"Combined with the SDF ground movement against the final enclave, progress is being made and their capabilities are being severely destroyed," he said.
Since December, around 60,000 people have left the last ISIS redoubt, according to the Syrian Observatory for Human Rights, around a tenth of them suspected extremists.
The outpouring has sparked a humanitarian crisis in SDF-run camps for the displaced further north, which are struggling to accommodate the mass influx of women and children.
The UN's food agency on Tuesday appealed for urgent funding for the al-Hol camp, which is receiving the bulk of evacuees.