Four "Islamic State of Iraq and Syria" (ISIS) elements were killed Monday (March 11th) in an international coalition airstrike targeting their base in the desert area south of al-Rutba in western Anbar, a local official said.
"Coalition aircraft bombed a secret ISIS base in al-Rutba's southern desert," al-Rutba district mayor Imad Meshaal al-Dulaimi told Diyaruna.
"The bombing, which was co-ordinated with the Iraqi forces, killed four terrorists who were hiding at the site," he said.
The bodies of the dead ISIS fighters, who have not been identified by name or nationality, were transferred Tuesday from al-Rutba to the Ramadi General Hospital, he said.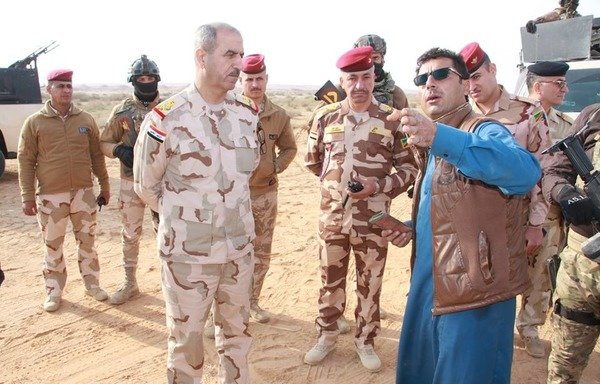 "The attack is part of a security operation launched by Iraqi military units four days ago that is still ongoing," al-Dulaimi said.
The operation, which includes units from the Anbar Operations Command, the Border Guard (Area 5), local police and tribal fighters "aims to end all presence of ISIS remnants in the desert areas south of al-Rutba", he said.
The area of operations extends to the Iraqi border with Saudi Arabia, he added.
Security forces are moving deep into the desert terrain in several areas, notably Wadi al-Hazimi, al-Jalabat and al-Hashisha, under Iraqi and coalition air cover, al-Dulaimi said.
Over the last few days, they have managed to destroy three abandoned vehicles and an abandoned rest-house consisting of three tents, he said.
The Anbar police's Tactical Emergency Regiment has meanwhile carried out landings near targets in the desert that led to the arrest of 10 suspects, he said.
Search for ISIS remnants
"The security forces are looking for terrorist remnants and their hideouts in desert areas that extend over a wide geographical area, some of which they have not reached before," al-Dulaimi said.
The deployment of security forces has driven the ISIS threat away from al-Rutba and its surrounding villages, he said, adding that "the vast desert is now narrowing in on the terrorists."
ISIS elements have been forced to scatter "as a result of the siege and the successive strikes by our forces and coalition aircraft", he said.
Iraqi forces on February 19th found the bodies of six Iraqis who had been among the 12 kidnapped in the desert region of Um Jadhan, between al-Rutba and al-Nukhaib, as they gathered truffles.
The kidnappers have released two of the captives, but the fate of the remaining four, including two brothers, is still unknown.