Syrian regime forces were heavily deployed throughout the southern city of Daraa after demonstrations were held across the city to protest the reinstallation of a statue of former Syrian President Hafez al-Assad, a local activist said.
City residents have made it clear they reject the return of the statue, which was torn down by protesters in the early days of the Syrian uprising, Daraa activist Jumaa al-Masalma told Diyaruna.
The regime's army left the city soon after the statue was toppled in March 2011.
Hundreds of Daraa residents took to the streets in spontaneous demonstrations on Sunday (March 10th) to protest the Syrian regime's decision to re-install a statue of current president Bashar al-Assad's father in the city's main square.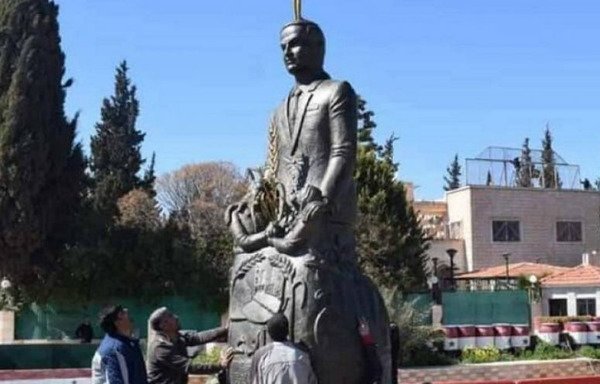 Hafez al-Assad ruled Syria with an iron fist for almost three decades until his death in 2000, and paved the way for his son Bashar to succeed him.
"Among the protesters were a number of officials who had belonged to armed opposition groups that had disbanded after signing reconciliation agreements with the regime," al-Masalma said.
Prominent figures included Adnan al-Masalma, who played a key role in the negotiation process with the regime, and Abu Munther al-Thahni, the leader of one of the largest local opposition groups, he said.
First protests since reconciliation agreements
When the demonstrations began, regime forces blocked residents from heading to the square where the statue was to be reinstalled, al-Masalma said, so they settled for marching through the streets of Daraa.
"The city of Daraa has symbolic importance as it was the area where the Syrian uprising began," he noted, "and where the first confrontations between demonstrators and regime forces took place."
Al-Masalma said these demonstrations are the first to take place since the ceasefire decision and reconciliation agreements were reached in Daraa, although tension had often prevailed in the city.
This was largely a result of the regime violating the agreements, he said, especially with regard to the conscription-related decisions.
Tensions also have been rising in the southern city and province over the deteriorating economic situation, the near-total lack of basic commodities and the "deliberate neglect" of all basic services, he said.