Anbar's local government has opened the door for investment in a bid to quicken the pace of reconstruction and development in the province in the post "Islamic State of Iraq and Syria" (ISIS) era.
The government has adopted "a strategic vision" for the development of provincial capital Ramadi, to transform it into an investment hub, officials told Diyaruna.
"Anbar's local government has started to implement this vision on the ground by launching large scale projects that economically benefit the province and the country as a whole," Ramadi mayor Ibrahim al-Awsaj said.
"The only way to overcome the aftermath of terrorism and achieve desired development is through investment," he said, stressing that due to budget constraints, "resorting to such an option becomes a matter of urgency".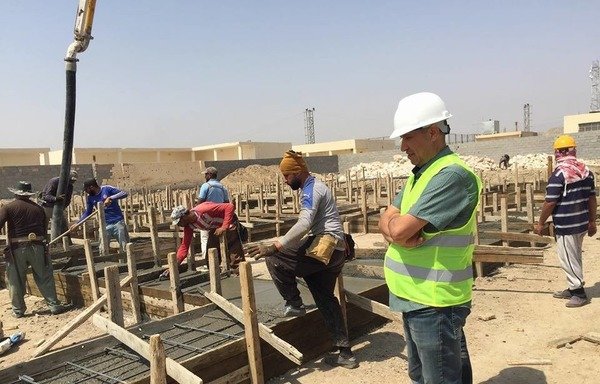 Anbar is rich in energy, mineral and human resources, al-Awsaj said. That, coupled with a stable security situation, provide for a general atmosphere that is attractive to investments.
Attracting capital
"There are several strategic and development projects in our plan that would transport Ramadi from a city that is struggling to shake off the legacy of terrorism to one of the largest economic centres that attracts investment and capital," he said.
A large three-level commercial centre is currently under construction in the al-Mustawdaa street area in the heart of Ramadi, which will also feature a car park and green spaces, al-Awsaj said.
The project is funded by the private sector and will cost around $25 million over a two-year period, he said.
In addition to creating employment opportunities and generating revenue for Anbar, officials hope the project will contribute towards "dispelling investors' fears" over the security situation in the province, he said.
Anbar is witnessing "a leap" in reconstruction activity, especially in the public services sector, he added, where water and power plants such as the Heet thermal plant are back in service, and schools are being rehabilitated.
On February 20th, Anbar's government announced it has opened the door for investment in the "largest commercial complex" in the country.
The Ramadi Boulevard complex will be built over a surface of 280 acres in the Kilo 5 area in western Ramadi.
"This is a massive project that the Anbar government hopes to implement as part of its strategic vision," said Anbar Investment Authority head Muhannad al-Noman.
Local officials seek to open the door wide for firms to invest in the Ramadi Boulevard project, he said, as it will include several shopping centres, educational and health facilities, a hotel and fairgrounds.
Investment is key
Several projects in Ramadi that were destroyed by ISIS have been rehabilitated.
"We have rehabilitated two residential complexes (that include 300 housing units) and completed the al-Farooq residential complex, which comprises 500 housing units," al-Noman said.
A brick factory was also built to supply construction materials for Ramadi, as well as a hospital with a 50-bed capacity, he added.
"The Anbar government's vision revolves around opening investment opportunities and attracting investment to Ramadi and other cities in Anbar, in order to move those cities from a stage of 'preserving stability' to a stage of investment," Anbar provincial council member Taha Abdul Ghani told Diyaruna.
After Anbar was liberated from ISIS, efforts focused on peace building projects and providing basic services for residents.
"Now, the pendulum is swinging towards reconstruction and development," Abdul Ghani said, "as we have a [good] investment environment and promising economic capabilities that we hope would attract investment firms."
"A cash shortfall is the biggest challenge" facing development in Anbar, he said. "Hence, investment is the best path towards overcoming this problem."