Extremist rivals Tahrir al-Sham and the "Islamic State of Iraq and Syria" (ISIS) continue to be locked into a vicious cycle of violence in Idlib city that began late last week with a suicide attack on a restaurant, a local activist said.
The most recent of these clashes took place on Tuesday evening (March 5th), resulting in casualties on both sides, activist Musab Assaf told Diyaruna.
This incident began when a group of ISIS fighters attacked a gathering of Tahrir al-Sham elements near Shoaib mosque in the heart of Idlib city, sparking violent clashes between the two extremist groups.
The gunmen, believed to be members of an ISIS sleeper cell, sprayed the Tahrir al-Sham elements with machine-gun fire from a passing vehicle, injuring several of them, the Syrian Observatory for Human Rights reported.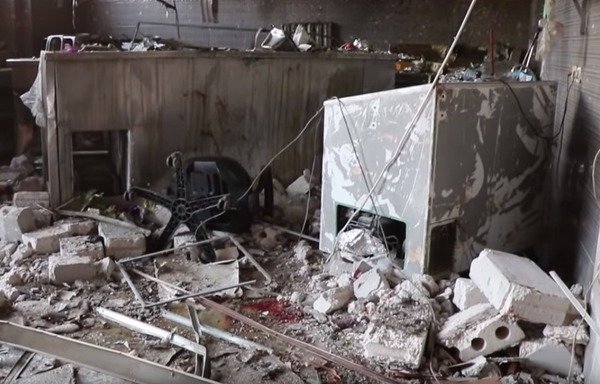 Tahrir al-Sham elements pursued the attackers, who fled in a pickup truck and a sport utility vehicle, and were able to identify the house where they were hiding in al-Qusour district in the western part of the city, Assaf said.
Heavy clashes ensued for about two hours, during which five ISIS elements were killed and a sixth blew himself up with an explosive belt he was wearing.
Two Tahrir al-Sham elements were killed and four others were wounded.
Assaf said the attackers and getaway vehicles were quickly identified, as Tahrir al-Sham has installed surveillance cameras throughout the city and monitors just about every major street and the vicinities of its headquarters.
Situation in Idlib 'worrisome'
Assaf described the current situation in Idlib city as "worrisome" because of the clashes between the two extremist groups, with the recent confrontation following another violent incident on Friday.
An ISIS suicide bomber blew himself up in a restaurant frequented by Tahrir al-Sham, killing eight people, including six Tahrir al-Sham commanders, he said.
Most of the dead were foreign fighters, the Observatory said.
Tahrir al-Sham responded by executing 10 ISIS elements the next day, Saturday, in front of the same restaurant.
Assaf said the restaurant, named Fusion, is owned by a Pakistani Tahrir al-Sham element and has been targeted with gunfire more than once in the past.
Rising tensions have been accompanied by rampant lawlessness in and around Idlib city, he added, where killings, bombings and kidnappings continue unabated.