The Iraqi government has received reports about the slaughter of dozens of Yazidi women in Syria by the "Islamic State of Iraq and Syria" (ISIS) and is preparing to investigate further, Iraqi officials said Tuesday (March 5th).
Last week, Kurdish officials reported that bodies and severed heads had been found in a mass grave near al-Baghouz, the last ISIS holdout in the eastern Syrian province of Deir Ezzor.
The grave contained men's bodies and the severed heads of around 50 women, who are believed to be kidnapped Yazidis, according to various media reports.
The news sparked a wave of anger in Iraq.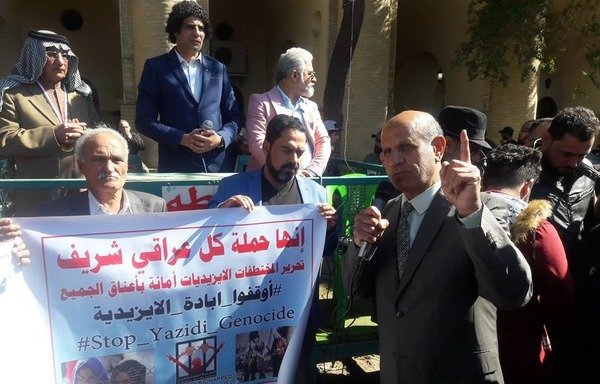 Dozens of Iraqis joined popular demonstrations on Friday, while several Iraqi organisations and parties joined Yazidi community leaders in issuing statements denouncing the crime.
Since then, the Iraqi Independent High Commission for Human Rights has received reports from international agencies and from Yazidi parties "confirming that a crime has taken place", spokesman Ali al-Bayati told Diyaruna.
"As soon as these reports arrived, we expressed our denunciation and rejection of this crime, which demonstrates the terrorist gang's brutality and barbarism," he said.
"We then wrote to the relevant government agencies, calling on them to fulfill their responsibilities, and we look forward to an official response on this issue to begin investigation procedures," he said.
Investigating the crime
The Iraqi government had previously formed a committee to investigate the fate of the Yazidis and other Iraqis kidnapped by ISIS, al-Bayati said.
"Upon approval from the government, this committee will take over the investigation and gather details to get to the facts," he said.
Depending on the findings, it is likely that the High Commission for Human Rights will later join the committee members in extracting the discovered bodies and conducting tests to identify the victims, he said.
Iraq's Independent High Commission for Human Rights "also will move to document this crime as part of a series of terrorist crimes", he said.
"The UN team charged with investigating ISIS abuses is also in charge of the Yazidi victims' issue," al-Bayati said.
"We are faced with another crime against international law by the terrorist organisation that constitutes a war crime," he said, adding that prosecuting such crimes is beyond the scope of Iraqi law.
"Therefore, we want the international community to act with us to conduct investigations and establish special tribunals against the perpetrators of these crimes," he said.
Fate of Yazidis still unknown
According to official statistics, 6,417 Yazidi men, women and children were kidnapped by ISIS after it invaded the Iraqi town of Sinjar on August 3rd, 2014.
In recent years, large numbers of the abductees have been freed, but the fate of about half of them is still unknown.
The Office for Yazidi Abductees' Affairs has been able to release "45 Yazidis kidnapped by ISIS in Syria since the beginning of this year", director Hussein al-Qaidi told Diyaruna on Tuesday.
"Of them, 14 were children, three were females and the rest were males rescued last week from Syrian territory and transferred to their relatives in Sinjar," he said.