Civilians streamed out of the "Islamic State of Iraq and Syria" (ISIS) group's last Syrian stronghold Tuesday (March 5th) into territory held by the Syrian Democratic Forces (SDF), AFP reported.
The mass outpouring of people from the final ISIS pocket has sparked a major humanitarian emergency, with the UN saying hundreds are expected to arrive at SDF-run camps for the displaced on Tuesday alone.
The SDF and allies from the international coalition smashed their way into the last sliver of ISIS territory in the village of al-Baghouz at the weekend, unleashing a deluge of airstrikes and artillery attacks on besieged fighters.
But the SDF force slowed down the offensive on Sunday, motivated by concern for civilians still trapped inside the pocket.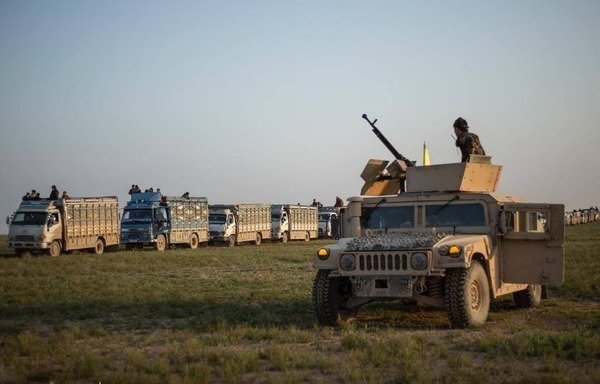 An SDF spokesman said thousands had been evacuated from the village since his force dialled down its advance.
"We managed to evacuate about 3,000 people" from the pocket, Mustafa Bali said on Monday night.
"A large number of ISIS jihadists surrendered to our forces among the same group," he said.
Hundreds of people had gathered at an inspection point near the village of al-Baghouz for screening after fleeing on Monday and early Tuesday.
Among them was the widow of French extremist Jean-Michel Clain, who told AFP her husband had been killed last month in mortar fire, after his brother Fabien.
Fabien Clain, 41, had voiced an ISIS audio recording claiming responsibility for the November 2015 attacks in Paris, when ISIS extremists slaughtered 129 people in co-ordinated operations.
Operations advancing 'one metre at a time'
Military operations are progressing slowly "to preserve the lives of civilians who are still being used as human shields by ISIS", SDF officer Farhad Khoja told Diyaruna.
The large number of mines planted by the group also are impeding the SDF's advance, he said.
"ISIS is relying heavily on its snipers and suicide bombers," he said, noting that a number of snipers have been killed in the ongoing clashes and 10 ISIS car bombs have been blown up.
"Dozens of ISIS elements have been killed or wounded," Khoja said. "Military operations are currently focused on targeting munitions depots and trenches, and consolidating new positions for advancing forces."
"The operation is advancing slowly one metre at a time and the necessary fortifications are being built in preparation for the final assault," he said.
"If it were not for the civilians the battle would have ended some time ago, but the determination of international coalition and SDF commanders to save [civilian] lives is slowing the operation down," he said.
The number of civilians who fled the areas of operations has reached more than 50,000, said Khoja, "all of whom have been transferred to camps set up for that purpose".
"Those suspected of being ISIS elements are being interrogated," he said, noting that the elements holed up in al-Baghouz mostly comprise Iraqis and Syrians, with Russian, Asian and some European nationals present as well.