The cities of Anbar province are seeing a flurry of reconstruction activity as authorities work to set up entrances and gates to each city that will serve as new, modern landmarks, local officials said.
All districts in Anbar have donned a new look after up-to-date entrances and gates were built, Anbar provincial council member Fahd al-Rashed told Diyaruna.
The "Islamic State of Iraq and Syria" (ISIS) destroyed Anbar cities' landmarks and entrances when it overtook these areas in early 2014, he said, including its destruction of the main entrance to Ramadi, as well as historical and cultural monuments.
"Engineering and technical teams have finished constructing a large number of entrances to Anbar cities, including Ramadi, Fallujah, al-Saqlawiya, al-Karma, and Heet, while work is ongoing to build other gates with modern designs," he said.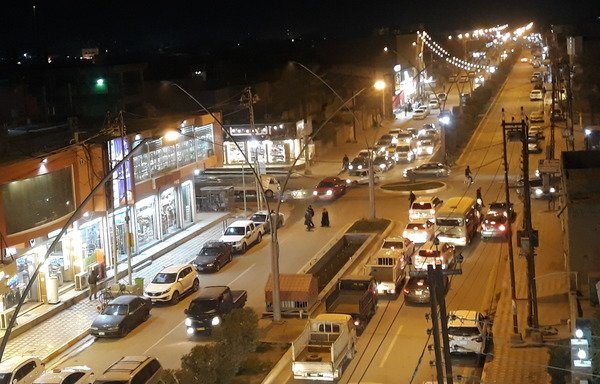 Other projects include the construction of historic and architectural monuments representing the traditions and culture of each city, al-Rashed said.
These include a waterwheel monument in Haditha, a minaret monument in Ramadi and landmarks representing science, palm trees and Anbar's heritage, he added.
'Major reconstruction campaign'
Municipalities and various service departments have participated in the rehabilitation and reconstruction projects, engineer Imad al-Dulaimi told Diyaruna.
The new Anbar entrances and gates now also serve as main checkpoints that have been outfitted with surveillance cameras and police and traffic personnel, he said.
"Municipal departments have taken it upon themselves to enlarge the entrances and main roads in Anbar's districts and sub-districts, including Ramadi, Fallujah, Haditha, Heet, Rawa and Anah," he added.
Municipal personnel and electricity department teams have installed lights on external roads and at the cities' entrances and exits, said al-Dulaimi, and rest areas and parking lots have been built.
Anbar is seeing a major reconstruction campaign in which architectural landmarks and service facilities are being built, he said.
Additionally, fountains are being erected in gardens and on main roads and modern and colourful designs that "reflect the return of life and the rejection of terrorism" are being used, he said.
"The reconstruction campaign taking place in Anbar districts, including Ramadi, is positive," Ramadi mayor Ibrahim al-Awsaj told Diyaruna.
The building of bridges and crossings, the rehabilitation of roads and the construction of entrances to the cities has improved services to all Anbar residents, he said.
Change 'evident' in Anbar streets
Anbar has succeeded in eradicating the traces of terrorism left behind by ISIS through erecting modern landmarks in all its cities, said Talib al-Hasnawi, head of Fallujah's municipal council.
"In Fallujah, the city's eastern gate has been rebuilt and the western entrance at al-Halabsa checkpoint has been expanded," he told Diyaruna, adding that work is underway to reopen the al-Sakaniya and al-Sajar entrances north of Fallujah.
"A positive change is evident in the streets and cities of Anbar, which two years ago were full of rubble and accumulated waste as result of terrorist operations," said 40-year-old citizen Jassim Abdullah from Ramadi.
"Ramadi is now a city of construction and rebuilding, with green spaces, parks, wide streets, sidewalks and beautiful lighting at night," he said.