Exhumations have begun at two new mass grave sites that were discovered last week in the Syrian city of al-Raqa that contain the bodies of those executed by "Islamic State of Iraq and Syria" (ISIS).
The main grave site has been described as the largest in Syria, and appears to contain the remains of more than 2,500 victims.
Teams from the Rapid Response Division of al-Raqa's Civil Defence Department were well aware that there were numerous mass graves in the city's vicinity, said team member and mine-clearing specialist Mustafa Sheylan.
These grave sites are known to contain the remains of victims of massacres ISIS committed when it controlled the city, he told Diyaruna, but "finding them was not easy, as the area is littered with randomly planted mines and rubble".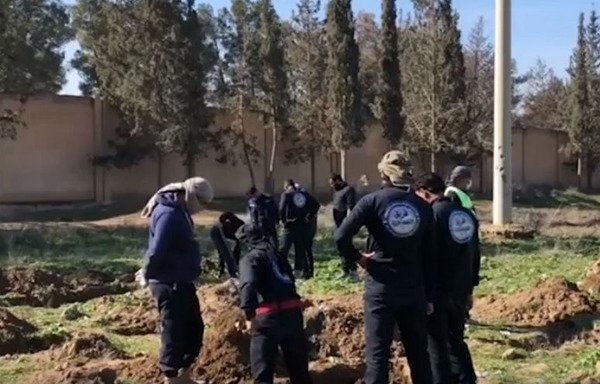 Teams operating in al-Raqa, including civil defence, de-mining and forensic teams, have been able to locate and begin to exhume the two newly discovered grave sites in al-Fakhikha, an area to the south of al-Raqa city.
Corpses had been randomly dumped at the first grave site, the larger of the two, where the exhumation process is ongoing, he said.
The number of bodies at this site is expected to exceed 2,500.
Initial information indicates the remains are of detainees who were held by ISIS and killed during the time that it controlled the area.
Thousands of ISIS victims
The second grave contains a much smaller number of bodies, which appear to have been buried individually.
These are likely to be the remains of ISIS elements or others who were executed individually at varying points of time, Sheylan said.
"To date, 14 mass graves have been discovered in the area since the city's liberation," he said.
Sheylan said it is still too early to ascertain the total number of bodies buried in the two grave sites, but it could exceed 3,000.
And it is still too early to identify the human remains, he added, because they are badly decomposed and there are very few clues as to their identity.
Ideally, he said, DNA testing would be carried out, and a file would be created for each case. But this is unlikely to happen, due to the lack of financial and logistical resources, and the dispersal of surviving relatives in Syria and abroad.