Iraqi forces, backed by local tribes, have destroyed a network of tunnels that crisscross Iraq's border with Syria that had been used by the "Islamic State of Iraq and Syria" (ISIS) to smuggle fighters and weapons, officials said.
The tunnels, 11 in total, were uncovered in the Anbar border town of al-Qaim.
They allow for passage between Iraq and Syria, with one of the tunnels -- large enough for people to walk through -- stretching over three kilometres in length.
These tunnels date back to the period between 2014 and 2017, when Anbar was under ISIS control, al-Qaim mayor Ahmed al-Dulaimi told Diyaruna.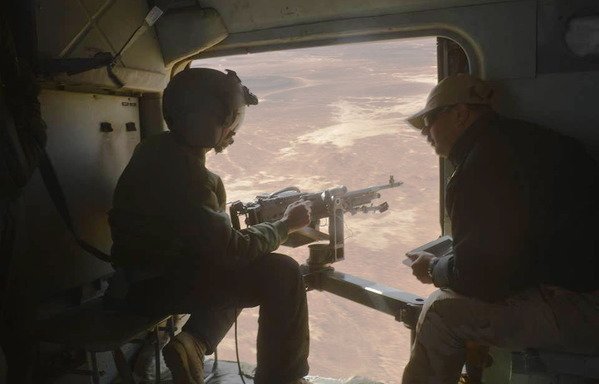 The tunnel network is "part of a host of old trenches and tunnels that Iraqi security forces and tribes initially discovered after they liberated al-Qaim and regained control of the Iraqi-Syrian border", he said.
The tunnels were discovered after thorough investigations and search operations were conducted by Iraqi forces in the desert area that runs along the border strip, in an effort to search for militant hideouts, al-Dulaimi said.
"ISIS members have been trying to use these hidden passageways to enter Iraq from Syria and smuggle in weapons, while evading detection," he said.
He praised the alertness of border patrol, al-Jazeera Operations Command and tribal forces, noting that these forces have a firm grip on the border areas, and are supported in this task with air cover from the international coalition.
Infiltrators blocked at border
Iraqi forces thwarted several infiltration attempts in February by ISIS elements who sought to cross the border from al-Baghouz in Syria.
Eleven militants were killed as they tried to flee the fighting in eastern Syria during ISIS's last stand against the Syrian Democratic Forces (SDF), al-Dulaimi said.
The SDF on February 13th launched a final push to expel ISIS from the sole remaining sliver of the proto-state it declared in 2014 across Syria and Iraq.
As the battle to oust the group continues in Syria, Iraqi forces have put in place more stringent border protection measures, deploying more than 20,000 fighters on the border who are supplied with heavy weapons and artillery.
These forces conduct patrols and air reconnaissance missions and surveillance campaigns, al-Dulaimi said.
"Military deployment has reinforced border security and closed the gap for terrorists to infiltrate and cross over into our country," said Col. Mousa Hamad al-Sanad, commander of the Upper Euphrates tribal forces.
Targeting the tunnel network
The targeting of the tunnel network is considered to be among the most successful pre-emptive operations against the group, al-Sanad told Diyaruna.
"ISIS members have used these tunnels to escape into Iraq as a result of the military pressure placed on them in Syria," he said, adding that destroying the tunnels has put an end to these activities.
Previous counter-ISIS operations uncovered around 100 tunnels that cross over into Syrian territory, al-Sanad said.
"We support the army and border patrol forces in all their activities and efforts relating to securing the border strip, as well as the desert in western Anbar," he said.
Some ISIS elements who fled from the Iraqi forces are now hiding in the country's western desert, he said, noting however that their numbers are few.
Security forces "will fiercely protect the victory achieved over ISIS, and will continue their campaigns to root out its elements and end the threat they pose", he said.
Security forces still face difficulties in clearing ISIS remnants from desert areas, Anbar provincial council member Athal al-Fahdawi told Diyaruna.
Even though ISIS elements are no longer able to infiltrate the border as before, the group's remnants "are hiding in valleys, caves and hidden tunnels that are hard to locate via aerial surveillance", he said.
"These bunkers are continuously and forcefully being targeted, but there still is a need for more aerial reconnaissance missions and additional military and tribal forces to fully eradicate the terrorist threat," he added.