Iraqi forces on Tuesday (February 19th) wrapped up a four-day security campaign south of Samarra in Salaheddine province to clear "Islamic State of Iraq and Syria" (ISIS) remnants and strike their bases, a military official said.
The operations command launched the campaign in co-operation with the Iraqi army's Commandos Brigade and the Federal Police's 13th Brigade, Samarra Operations Commander Maj. Gen. Imad al-Zuheiri told Diyaruna.
The military engineering corps and the army's air force also were among the participants, he said.
"The targeted area extends from southern Samarra towards the administrative border with Anbar province, and includes the area of al-Masb, Jazrat Albu Hamoud and the banks of al-Tharthar lake," he said.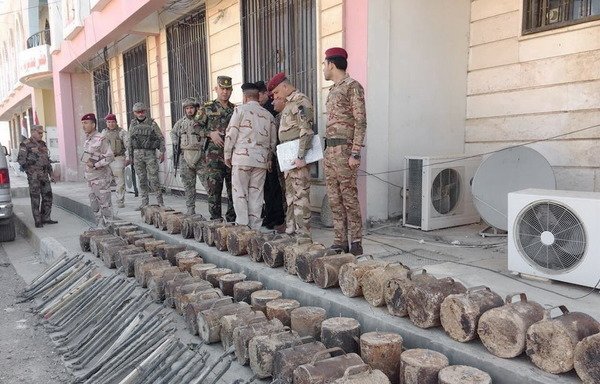 Iraqi forces sought to clear ISIS remnants and their weapons stores from along the banks of the Tigris river, where the group's fighters had established hiding places amid the dense vegetation, al-Zuheiri said.
"Our campaign was aimed at combing those sites, which cover a total area of about 3,600 square kilometres, and denying the enemy the ability to obtain the explosives needed to carry out terrorist operations from this territory," he said.
"During the campaign, we were able to burn down a number of terrorist rest-houses and destroy large numbers of improvised explosive devices (IEDs) hidden there," al-Zuheiri said.
Security forces also cleared brush from a large area to open up the sight lines and deny ISIS fighters cover, he added.
Residents welcome greater security
The recently concluded campaign was greeted with "great satisfaction by the people, farmers and shepherds living in the area", al-Zuheiri said.
Local residents also contributed to its success, he said, by providing support to the security forces and helping them to identify the location of ISIS hideouts.
Al-Zuheiri told Diyaruna he had taken part in a Monday aerial reconnaissance tour in the operations theatre to see the results of the campaign.
"The area is currently very safe, and there are no terrorist threats or threats to civilians," he said.
Over the past six months, the Samarra Operations Command has carried out several successful security operations, he said.
Among them was an airstrike that killed 12 extremists who had infiltrated from Syria and had been hiding out in al-Farhatiya, south of Samarra, al-Zuheiri said.
About a month ago, following a two-month period of observation, security forces ambushed and killed "a dangerous terrorist called Saad Dalla" in Tarisha in al-Duluiya, he added.
Forces from the Salaheddine Operations Command continue to "carry out security and pre-emptive operations in their sector of responsibilities", he said.
This covers an area of 13,000 square kilometres, he said, and includes four administrative districts in southern Salaheddine province: Samarra, Balad, al-Dujail and al-Duluhiya.