The Syrian regime has released dozens of members of Jaish Khalid ibn al-Walid it had been holding captive in the southern province of Daraa, an activist said.
The move, which is surprising as the extremist faction is allied with the "Islamic State of Iraq and Syria" (ISIS), comes as part of a regime bid to enforce security and suppress the wave of protests roiling the area.
Daraa city activist Jumaa al-Masalma told Diyaruna that residents were surprised to see former members of Jaish Khalid ibn al-Walid among the Syrian regime forces that are carrying out raids and arrests in the area.
The group had pledged allegiance to ISIS and fought under its banner, he said.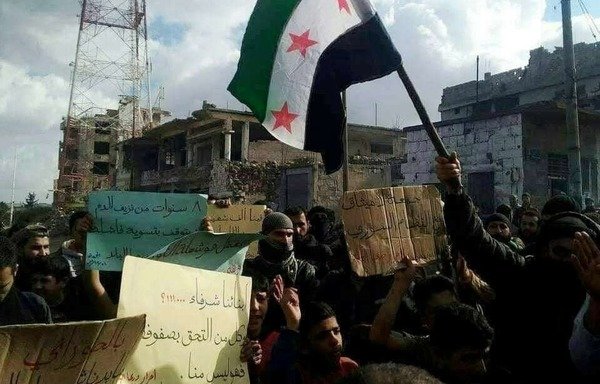 Al-Masalma said he has learned that the Syrian regime released dozens of former opposition fighters after a detention period of no more than six months.
"The regime not only released them, but conscripted them into its forces, particularly the military security branch, which is responsible for pursuing and arresting regime opponents," he added.
Anti-regime protests
According to al-Masalma, this move came in response to the spread of anti-regime protests in the area, in particular those staged by youth who were covered by the reconciliation agreement.
Although Daraa youth are permitted under the agreement to settle their status with the Syrian regime, many of them are being arrested by the regime under various pretexts, he said.
As a result, the situation in Daraa has been very tense, he said, to the point that armed former opposition elements have taken part in the demonstrations.
Regime forces have pulled out completely from the Daraa al-Balad area for fear of direct armed clashes, he added.
Many military checkpoints throughout Daraa province are meanwhile coming under repeated attack by the so-called popular resistance in the south.
Al-Masalma said peaceful civilians in the area fear that a wave of bloody clashes might be set off by ISIS elements who joined the regime forces, some of whom have been publicly identified by name.
Most of them are known for their "brutality, criminality and the kidnappings and killings they carried out" when they were in control of the area, he said.