Iran-backed militias operating in Iraq are plundering the country's oil wealth to secure funding for their operations through smuggling oil to Iran, officials told Diyaruna.
These militias, which fall under the umbrella of the Popular Mobilisation Forces (PMF), are enforcing their control over several oil wells in northern Iraq, the officials said, and are now the ones draining the country's national resources after ousting "Islamic State of Iraq and Syria" (ISIS) fighters from that area.
They include Asaib Ahl al-Haq, Kataib Hizbullah, the Badr Organisation, Saraya al-Khurasani and Harakat al-Nujaba, they said.
Most oil theft operations take place at the al-Qayyarah and Najma oilfields south of Mosul, with members of the Iran-backed PMF militias also present near oil fields in liberated provinces such as Salaheddine.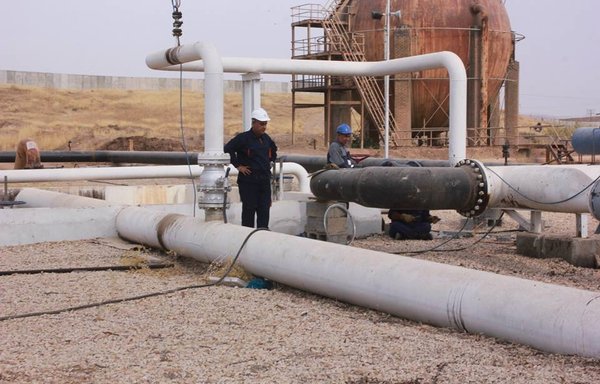 Salaheddine has two oil fields, Allas and Ajil, in addition to one of the biggest oil refineries -- al-Sumoud refinery, previously known as Baiji.
Daily theft of oil
In January, Ninawa MP Ahmed al-Jubouri said in a social media post that an armed group affiliated with the PMF was smuggling oil from al-Qayyarah's oilfield.
He said that PMF militias are stealing an average of 100 tankers of crude oil per day from the province, and using the profits from reselling them for their own benefit.
"Theft has been occurring on a daily basis at an average of 70 to 100 tankers stolen every day," said Ninawa provincial council member Hussam Eddin al-Abbar.
Iran-backed militias are stealing then transporting the stolen oil in trucks, either abroad or to the Kurdish region, to secretly sell it to refineries that turn it into fuel or asphalt, he told Diyaruna.
Oil is being sold at very low prices because the goal of these militias is to "make money at any cost", he said.
Ninawa residents are "outraged by this targeted hemorrhaging of their national wealth by groups that have no regard for the country's interests", al-Abbar said.
MPs from Ninawa province are urging the government to control these "armed groups that are affiliated with the PMF, which claim to be protecting oil wells but are in fact stealing from them", he added.
"We must adopt strict regulatory and legal procedures because it is unfair that the looting continues while the province is starved for cash to build its infrastructure that was damaged in the war," he said.
Threat to economy
Iraqi MP for Salaheddine Badr al-Fahl told Diyaruna that "unspecified amounts" of oil are being stolen every day from the oil wells in the province.
"Powerful factions are in control over there and they use their influence, the remoteness of the area where the wells are present and a shortage in oil protection police forces" in order to steal the oil, he said.
The stolen oil is considered a main source of funding for these factions, which use the funds to pay their members' salaries and finance their armed operations, al-Fahl said.
The central government should control all the oil wells in the country, he said, and mete out punishment to those who are stealing national resources.
What is required is a bold stance on the part of the government, he said, as the actions of these militias pose "a dangerous threat to the economy, particularly as Iraq is having a hard time securing enough funds for reconstruction due to low oil prices in the global markets".
'Solidifying power'
"Iraqi militias with ties to Iran are using stolen oil revenues to solidify their power and impose their agenda and hegemony over the country," said strategy expert Alaa al-Nashou.
"The militias are looting the country and using the money to harm the people and obstruct reconstruction and development," he told Diyaruna.
These groups are taking over oil resources in liberated areas and are now replacing ISIS by way of stealing and smuggling the country's oil wealth in service of their own interests, he said.
"There are credible reports that prove this theft is on the rise and that a number of oil shipments are being smuggled by the militias to Iran only to be sold at very cheap prices", as low as $6 per barrel, said al-Nashou.
These militias also seek to mitigate the impact of the sanctions imposed on Iran even if at the expense of Iraq's economy and future, he said.
The government's decision in late January to form the supreme anti-corruption council "is a first step towards combatting all threats to the country's interests and resources", al-Nashou said.
But this step must be coupled with "massive efforts on the part of the government to impose the rule of law against any group that tampers with the country's security and wealth".