A senior military official vowed that Iraqi forces will wipe out "Islamic State of Iraq and Syria" (ISIS) remnants hiding in the Makhoul mountain range, a few days after the group had killed three brothers in the area.
ISIS elements on Thursday (February 7th) kidnapped three young men -- Saad, Mohammed and Omar Jassim al-Hamadi -- who hail from the village of al-Mashak in Baiji, northern Salaheddine province, while they were picking truffles in the mountains.
One day later, security forces found the handcuffed bodies of the brothers lying on the ground in the area of Sheikh Ali in the Makhoul mountain range. They were reportedly shot dead from behind.
"Our campaigns to track down ISIS remnants and attack their bases will not stop until they are eliminated and terrorist activities are terminated in the mountain range," Joint Operations Command spokesman Brig. Gen. Yahya Rasul told Diyaruna.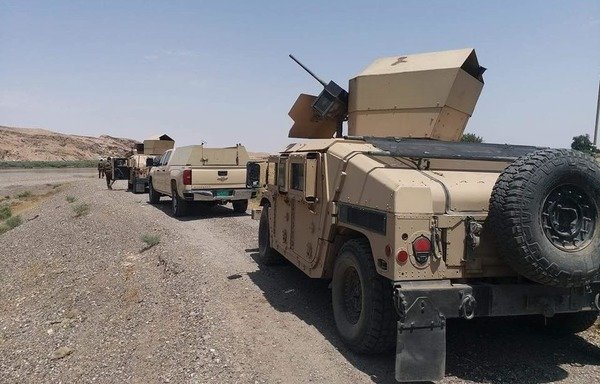 Extremists hiding in the Hamreen mountains and al-Hawija Basin also will be targeted, he said.
Iraqi forces conduct "quality operations in the Makhoul mountains and the international coalition conducts frequent airstrikes against terrorists hiding in caves there", he said.
Reconnaissance aircraft are patrolling the mountains, he said, and "we are working to collect information and intensify intelligence operations regarding the terrorists' hiding places in order to destroy them".
"We rely heavily on air surveillance and intelligence efforts," Rasul said, noting that the mountainous and rugged areas of Salaheddine province limit the movement of heavy military units.
The murder of the three brothers "is an attempt by the terrorist remnants to stir media attention via their crimes and to lead the public to believe that they still exist and have some influence", Rasul said.
"But we reiterate that these are just defeated elements who do not dare to show themselves in public, and their terrorist operations are proof of their cowardice," he said.
Widespread condemnation
The killing of the three brothers has provoked popular condemnation and calls to track down and punish the perpetrators.
"The crime confirms the terrorists' meanness and depravity," Salaheddine provincial council member Abd Sultan Hamad al-Jubouri told Diyaruna.
Two of the victims were university students while the third was in high school.
"ISIS elements are present in the Makhoul mountains between the areas of al-Futha and al-Khanouka," he said.
"We must not allow them to turn the mountainous areas into a safe haven and a source of threat to the residents of nearby villages," he stressed.
Coalition aircraft early this month launched fierce strikes on ISIS hideouts in the Makhoul and Hamreen mountains in co-ordination with the Iraqi Joint Operations Command.
Eight ISIS hideouts were destroyed in the operation.