Iran-backed Iraqi militias are carrying out recruitment campaigns in Iraqi cities that seek to entice vulnerable youth to join their ranks with money, or through extortion and coercion, experts and witnesses told Diyaruna.
Iran's "Islamic Revolutionary Guard Corps" (IRGC) and its elite Quds Force are focusing on impoverished areas to lure the youth there to fight in Syria, they said.
But once those youth are killed or injured in Syria, their families stop receiving support or any financial assistance, they said.
Armed militias formed in Iraq, which are closely tied to the Quds Force, have had a presence in Syria for more than six years where they have been involved in widespread crimes and abuses.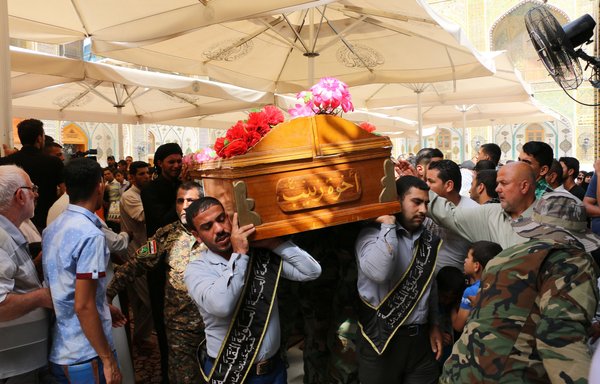 The most prominent of these militias include Kataib Hizbullah, the Abu al-Fadl al-Abbas Brigade, Asaib Ahl al-Haq, the Tafuf militia, the Sayyid al-Shuhada Battalions, the Kafeel Zainab Brigade, Harakat al-Nujaba and Jaish al-Muammal.
"These militias have offices that are secretly recruiting teenagers and youngsters from poor families and enticing them with money, including a large initial payment paid to each volunteer that is sometimes as much as $9,000," Ninawa tribal spokesman Sheikh Muzahim al-Huweit previously told Diyaruna.
This is followed by a monthly salary paid to the recruit or his family, he added.
"Enticement is not the only means they employ, as they also use extortion and coercion," he said.
'I have not received a single dirham'
Asmaa Jassim al-Quraishi, 38, is the widow of an Iraqi fighter who was killed in May 2015 in rural Aleppo while fighting alongside the Syrian regime and other Iranian and Iraqi recruits.
"So far, I have not received a single dirham and I do not know where to go to get aid or assistance," said al-Quraishi, who lives in Sector 43 of Sadr City, east of Baghdad.
"Iraqi government agencies are demanding to see a death certificate," she said, noting that she only has a document stating that her husband was killed in Syria -- which does not make her eligible to receive a salary to support herself and her two sons pursuant to the Iraqi Terrorism Martyrs Law.
"[My husband] received a salary for two months before he was killed," she told Diyaruna.
"I do not know who recruited or lured him, but he went [to Syria] for our sake and for the seven dollar papers [$700] they were paying him," she said.
Fadhel al-Saeedi, 29, has been undergoing treatment at the Yarmouk Hospital in Baghdad for several months free of charge.
But the doctor in charge of his case advised him to travel outside Iraq for more advanced treatment to avoid potential paralysis from a spinal cord injury he suffered in September while fighting alongside the Syrian regime in the city of Deir Ezzor in eastern Syria.
Al-Saeedi told Diyaruna he was misled by those who recruited him, as they have not sent him "a single dinar since I have returned injured from Syria".
Meanwhile, "my friends volunteered to join the Iraqi army to fight ISIS and now they enjoy all their rights and privileges and feel appreciated by the community", he said.
Misled by armed militias
"Dozens of misled Iraqis have been killed or wounded in Syria, and their [Iran-backed] recruiters have not kept their word to them or their families," Brig. Gen. Mohammed Abdullah told Diyaruna.
These men were promised that their medical treatment would be covered and that they and their families would receive financial assistance even after they return from Syria, he said.
They can be treated free of charge at Iraqi government hospitals, "but they are not covered by the treatment programme afforded to Iraqi forces and members of the Popular Mobilisation Forces (PMF) and tribal mobilisation forces who fought ISIS", Abdullah said.
"If there is a party that is obligated to treat them, it is Iran or the al-Assad regime," he added.
"Whoever thrust them into a fight that is not their fight bears full responsibility for them," said Mohammed Abdullah al-Mashhadani, a member of the Iraqi National Forces Coalition.
The actions of these armed factions "are illegal pursuant to Article VIII of the Iraqi Constitution", said political expert Ahmed al-Hamdani.
The law stipulates "non-interference in the affairs of other countries", he told Diyaruna, as Iraq must maintain good relations with neighbouring countries and cannot be used as a launchpad to undermine the security of any country.
The state is not responsible for the treatment of members of these armed militias, he said, adding that if it did, "it would mean the government approves of and supports their involvement in the Syrian conflict".