Iraq has deployed additional troops to the border area with Syria as a precaution against attacks or infiltration attempts by "Islamic State of Iraq and Syria" (ISIS) remnants, an Iraqi security expert told Diyaruna Monday (February 11th).
The Iraqi-Syrian border "has been witnessing intensive military preparations and reinforcement of the units stationed there", said security expert Saeed al-Jayashi.
"Additional troops equipped with artillery and heavy weapons have been sent to the border area," he said.
Iraqi forces have taken a series of measures to fortify the border area, including the deployment of reconnaissance planes, observation towers, guard posts and night vision cameras.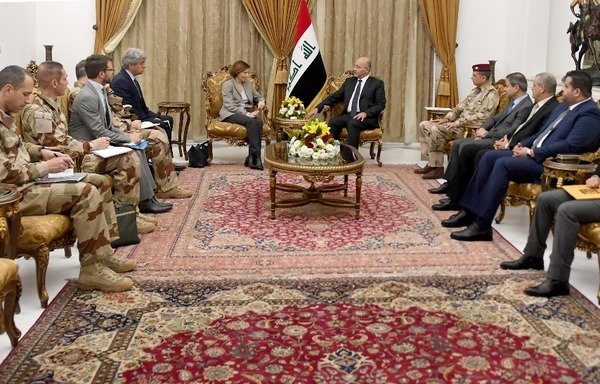 "There is still some terrorist presence in Syrian territory next to the border with Iraq, but the [terrorists] are gradually losing their grip and their influence in that area," he told Diyaruna.
"The recent military deployment is part of our forces' pre-emptive operations to handle any emergency and to fend off the danger of infiltration by terrorists, especially after the military pressure on them has intensified," al-Jayashi said.
"Iraq is prepared for the worst-case scenarios," he said. "Victory over ISIS was achieved with blood and precious sacrifice, and we do not want remnants of this terrorist group fleeing Syria to enter the country and threaten the security of our cities again."
French support
The Syrian Democratic Forces (SDF) backed by the international coalition announced a final push to retake the last ISIS pocket in and around the village of al-Baghouz near the Iraqi border late Saturday, after a pause of more than a week to allow civilians to flee.
A French artillery force, deployed in the Euphrates Valley desert just inside Iraq as part of the international coalition, has carried out several attacks against ISIS in rural Deir Ezzor with 155-mm shells.
The shells, with a range of 40 kilometres, landed on select militant targets deep inside Syrian territory.
"We are less than 10 kilometres from the frontline here," points out Col. François-Regis Legrier, commander of Task Force Wagram, a French artillery group within the international coalition.
Legrier, whose 68th regiment took part in the 2016 recapture from ISIS of Mosul, says there are "a few hundred fighters left in al-Baghouz, not more", AFP reported.
"Mosul, that was a nine-month battle and 10,000 shells. On this front, it has been four months and we are at 3,500 rounds," he said.
"The end is near," is the message from France's Defence Minister Florence Parly who visited the Task Force Wagram site in al-Qaim from Baghdad on Saturday.
"The terrorists are leaderless, without communications, in disarray, on the verge of collapse. So let's finish off this fight," the minister tells a group of some 40 French soldiers manning the outpost alongside 100 US troops.
Parly, who arrived in Baghdad last Friday, held a series of consultations with senior Iraqi officials on the two countries' efforts to combat terrorism.
"This visit, which comes after a successful visit by French Foreign Minister Jean-Yves Le Drian, reflects the close relationship between Iraq and France," security expert al-Jayashi said.
"The French military mission continues to provide support to Iraq in terms of military support, training and consultation, in addition to its direct contribution to uprooting ISIS from Syria," he added.