Syrian fighters backed up by artillery fire from the international coalition pressed their assault Monday (February 11th) to retake a last morsel of territory from the "Islamic State of Iraq and Syria" (ISIS), AFP reported.
The Syrian Democratic Forces (SDF) on Saturday announced the final push to expel hundreds of extremists from that patch in eastern Syria on the Iraq border.
The coalition maintained a steady beat of bombings on the ISIS pocket on Monday after an early morning ISIS counterattack caused several SDF casualties.
"ISIS launched a counterattack on our forces and we are now responding with rockets, airstrikes and direct clashes," SDF spokesman Mustafa Bali told AFP.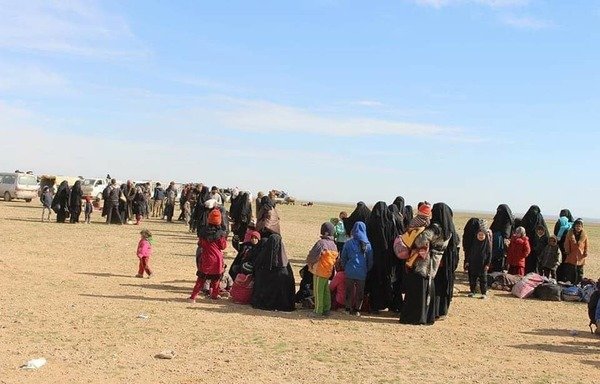 He said there were "dozens of SDF hostages held by ISIS" inside their last foothold, but denied reports of executions.
The Syrian Observatory for Human Rights said the Arab-Kurd alliance had pressed on Monday in the face of tough obstacles.
"The SDF are advancing slowly in what remains of the ISIS pocket" on the edges of the village of al-Baghouz in Deir Ezzor province, Observatory chief Rami Abdel Rahman said.
But landmines, ISIS snipers, and tunnels the extremists have dug out for their defence are hindering the advance, he said.
'Real advances on the ground'
The SDF announced the start of the final military operation against ISIS after a pause of more than a week to allow civilians to flee, SDF officer Farhad Khoja told Diyaruna.
ISIS had "blocked all exit routes to prevent civilians from leaving in order to use them as human shields", he said.
Operations have resumed with full air and logistical support by the international coalition, he said, "with more than 50 airstrikes carried out by coalition aircraft since Saturday".
"The shelling and airstrikes aim to cut off all internal supply lines in the area in which ISIS elements are holed up," said Khoja.
Two tunnels and several ISIS positions and weapon depots were destroyed, he said, and 10 main roads were blocked.
The SDF also have seized a quantity of weapons and ammunition left behind by ISIS elements who fled their positions.
The SDF have made "real advances on the ground", he said, though progress is slow due to the presence of large quantities of mines planted by ISIS to impede the advance of SDF forces.
Frequent sandstorms and heavy rains have also slowed down the operations.
Khoja said he expects the last phase of the assault to last "no more than 10 days at the most as the area controlled by the group does not exceed a few square kilometres".
Co-ordination is ongoing with the Iraqi side to prevent fleeing ISIS elements from infiltrating Iraq as "it is impossible for them to hold out in their last remaining area in Syria", he said.
Al-Baghdadi 'likely not in Syria'
Since December, tens of thousands of people, most women and children related to ISIS fighters, have fled to SDF territory.
The SDF have screened the new arrivals, weeding out potential extremists for questioning.
On Monday, dozens of coalition and SDF fighters were stationed at a screening point for new arrivals from ISIS areas.
Coalition forces stood over about 20 men who were crouching on the ground.
Some 600 people were able to reach SDF territory on Sunday after fleeing the fighting, the Observatory said.
Among them were 20 suspected ISIS members, including two French women, seven Turks, and three Ukrainians, said the monitor.
The SDF announced Sunday that it had taken some 40 positions from ISIS following direct combat involving light weapons.
The alliance had earlier said that up to 600 extremists as well as hundreds of civilians could remain inside a patch of four square kilometres.
Spokesman Bali said ISIS leader Abu Bakr al-Baghdadi was not among them, and likely not in Syria.