There has been growing concern among Damascus residents that an organisation run by Hizbullah and funded by Iran has been expanding its reach into the city's public work projects, local activists said.
The Jihad al-Bina foundation has been taking over reconstruction and rehabilitation projects in the Syrian capital, said activist Mohammed al-Beik.
This move, which has served to tighten the foundation's control over public works, has harmed the interests of both Syrian government employees and contractors, and is "not welcomed by the city's residents", he told Diyaruna.
Jihad al-Bina has been overseeing the removal of rubble and debris in place of government-affiliated institutions, he noted, even though these have local offices and the necessary personnel and equipment to carry out these tasks.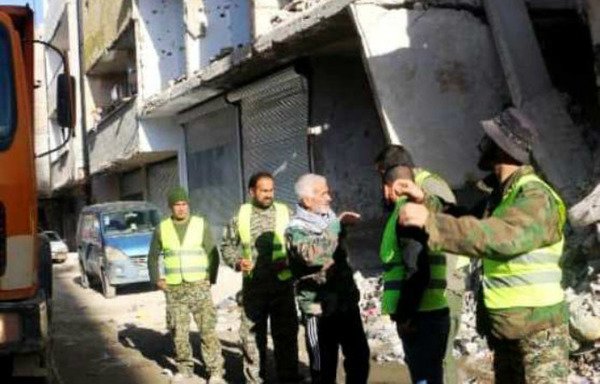 Dozens of small contractors who had undertaken these tasks for the government for decades through direct assignment or public tenders have submitted complaints, he said, as they are without work and their employees stand idle.
Steady expansion of Iranian interests
Jihad al-Bina, which serves as Hizbullah's construction arm and receives direct funding from Iran, was designated by the US Treasury in February 2007 and subjected to further sanctions in 2017.
According to the Treasury designation, "Jihad al-Bina has used deceptive means to seek funding for projects from international development organisations".
"Hizbullah operates Jihad al-Bina for its own construction needs as well as to attract popular support through the provision of civilian construction services," said Stuart Levey, then Under Secretary for Terrorism and Financial Intelligence.
This appears to be the case in Damascus, activist al-Beik said, where the foundation's heightened activity "seems to be an obvious attempt by the Iranians to appear as saviours, and as keen to serve the interest of the Syrian people".
"Jihad al-Bina is opening offices in most neighbourhoods of Damascus under the pretext of following up on the work it is carrying out," he said.
"It is very keen on raising Iranian flags and the foundation's slogans in the streets, accompanied by exaggerated media coverage," al-Beik added.
The foundation is determined to take over all public works, he said, and is even collecting trash, leaving the previous Syrian workforce without employment.
It seems Jihad al-Bina aims "to force the workers to work for the foundation and collect their salaries from it in order to tighten its grip on Syrian society", he said.
Most have been reluctant to succumb to these pressures, however, and those who do are mostly driven to it by their financial circumstances, he added.
'Clear agenda' behind reconstruction
There is a clear agenda behind Jihad al-Bina's activities in Damascus and other provinces, Syrian lawyer Bashir al-Bassam told Diyaruna.
The foundation's primary goal is to facilitate and accelerate the spread of Iran's influence in Syria, through the provision of social services and implementation of public projects, he said.
"The second, and more important, reason has to do with Iran's intent to put its hands on as many reconstruction projects as it can before military operations come to a complete stop," al-Bassam said.
This is because Iran recognizes that a large number of countries seek to profit from post-war reconstruction projects in Syria, he added.
A large number of Iranian entrepreneurs also have entered the Syrian market by establishing companies with Syrian nationals, he said.
As for Jihad al-Bina, "the work carried out by this foundation is not all free of charge", he said, noting that it has been implementing projects through Syrian ministries based on joint contracts involving infrastructure, electricity and roads.