The local councils of at least two towns in Idlib province, that are located in the de-militarised zone established by Turkey and Russia but have come under Syrian regime shelling, have declared their jurisdictions to be distressed areas.
Although these towns were supposed to be within the area covered by the ceasefire declared late last year, they have suffered heavy shelling at the hands of the Syrian regime and allied militias, activist Haisam al-Idlibi told Diyaruna.
Most residents have fled, he said, and the towns are largely deserted.
Since late December, a number of towns and villages in southern rural Idlib have been subjected to daily shelling from the Syrian regime and its allies, in violation of the September ceasefire agreement, al-Idlibi said.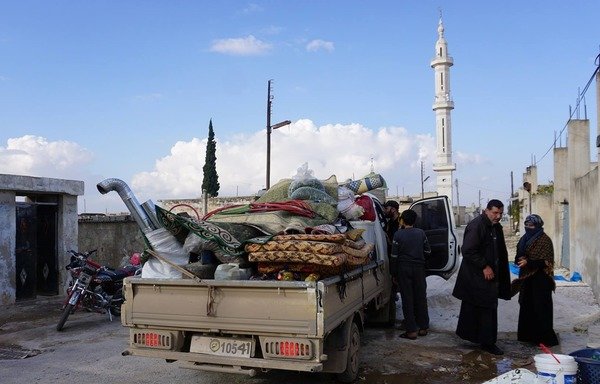 "The area is being bombarded with highly explosive surface-to-surface missiles that cause extensive damage, as well as seemingly endless barrages from multiple-rocket launchers," he said.
Most residents of the area, which includes the villages of al-Teh, Jarjanaz, al-Tamanah and Sukayk, have fled the shelling for safer parts of Idlib province.
Towns declare themselves 'distressed areas'
The local councils of two towns, al-Teh and Jarjanaz, have declared them to be distressed areas, he said, pointing out that both are now devoid of residents as a result of the regime shelling.
Al-Idlibi estimated that 75,000 civilians have fled the area.
This number includes 25,000 civilians who fled the town of al-Teh alone, he said, 20,000 from Jarjanaz, and a large number of internally displaced persons (IDPs) who had come to the area from other areas that are still under regime control.
"The shelling cut off the power and water supply, prevented food supplies from reaching the area, and led to the closure of schools and social, administrative and medical services institutions," al-Idlibi said.
Dozens of civilians have been killed or wounded in the shelling, he added.
Most rockets that hit the area are launched from the Tal Marq position, 15 kilometres away in south-east Idlib, he said, adding that the area also is shelled from regime positions in the town of Abu Dali in eastern rural Hama province.