The "Islamic State of Iraq and Syria" (ISIS) is fortifying its positions in the last enclave it still holds in the eastern Syria province of Deir Ezzor by using groups of civilians as human shields, a local activist said.
Civilians who were able to escape from ISIS-controlled areas in recent days told the Syrian Democratic Forces (SDF) that a large number of local residents are unable to leave, as they have been detained by the extremist group, media and social activist Ammar Saleh told Diyaruna.
According to civilians who were able to escape, those who have been forced to remain in the enclave are being used as human shields to impede the offensive mounted against them, Saleh said.
ISIS "knows that international coalition forces and the SDF would not put the lives of civilians in direct danger", he said, noting that this move has had the effect of slowing the military advance to a crawl in the past few days.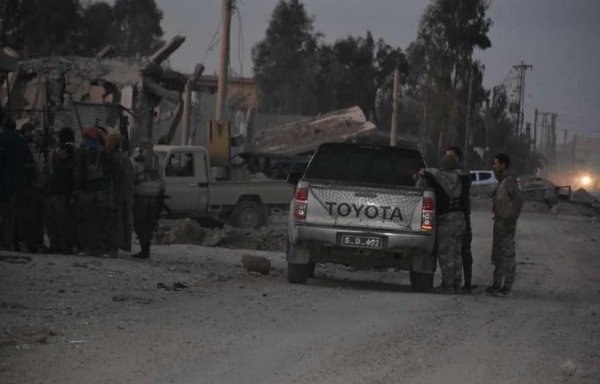 Families transported to displacement camps
As the SDF and international coalition ramped up their offensive in recent weeks, thousands of civilians have poured out of the area, AFP reported.
More than 36,000 people, mostly women and children from ISIS families, have fled since December via humanitarian corridors opened up by the SDF, according to the Syrian Observatory for Human Rights.
That figure also includes some 3,200 ISIS fighters, the Observatory said.
But while hundreds of people a day reached SDF-held territory early last month, the flow has slowed to a trickle.
Families that have been able to escape with the SDF's help have been transported to displacement camps, Saleh said.
These families have been in communication with each other to ascertain which families and individuals have been unable to escape, and therefore could be among those ISIS is using as human shields, he added.
Efforts to oust ISIS are currently limited to surveillance, sniper operations and identifying safe escape corridors for the remaining civilians, Saleh said.
"Airstrikes being carried out by the international coalition also appear to be taking the safety of civilians into account," he added, "as they have become less frequent and are attacking specific and very carefully selected targets."
Meanwhile, Saleh said, ISIS elements are nowhere to be seen, which typically means they are hiding in underground tunnels, a common modus operandi.
Surveillance operations only detect movement by ISIS women from time to time, according to SDF elements positioned near the last ISIS enclave.