The city of Rawa in western Anbar province on Friday (February 1st) announced it has launched a package of reconstruction projects to tackle the devastation the "Islamic State of Iraq and Syria" (ISIS) left behind in its wake.
Rawa's local administration has begun to implement 15 projects to rebuild the city and erase all traces of ISIS, Rawa mayor Hussein al-Akidi told Diyaruna.
"The projects, which are supported by the federal budget, are related to different areas, such as repairing and resurfacing the damaged road network, including the Kilo-7 road, which connects Rawa with several villages," he said.
Reconstruction and repair work aims to restore the supply of electric power and drinking water, he said, noting that there also are plans to reactivate disrupted government services.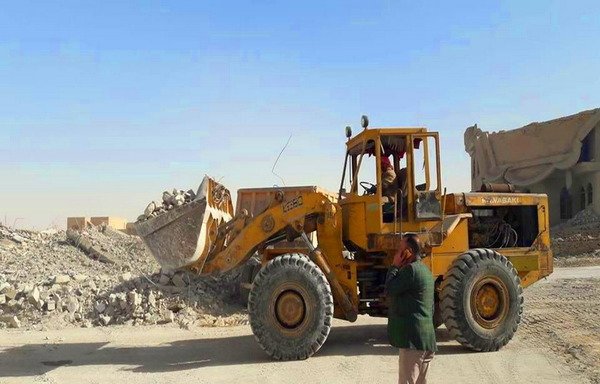 The reconstruction plan will include the Rawa textile factory, which was badly damaged while ISIS controlled the area, he said.
Iraqi forces regained control of Rawa -- then the last city in Iraq still in ISIS hands -- on November 17th, 2017.
Before the ISIS incursion, the textile factory provided jobs to many women in the city, he said, "and we hope that it goes back to being the way it was, even better".
Rawa's overall progress towards reconstruction "is going well, and at an increasing pace", al-Akidi said.
"With the support of international organisations, led by the UN Development Programme, we have been removing explosive remnants of war and debris from the streets and providing electricity, water and municipal services," he said.
"We also have rehabilitated five schools that were completely ruined."
Families return, security restored
"As for the efforts to bring back displaced families, we can say that about 70% of the population of Rawa (an estimated 20,000 people) have returned to the city," al-Akidi said, pointing out that "people continue to return".
"Our city is today the safest in the province, as it has had no security breaches since the defeat of ISIS," he said. "Forces from the al-Jazeera Operations Command's 28th Brigade are responsible for security, in addition to the local police and tribesmen."
"The security authorities have checkpoints and surveillance cameras to monitor and prevent any infiltration or terrorist activity," he added.
ISIS has some remnants still hiding out in the surrounding desert, he said, "but they are not safe, as a result of being constantly hit by Iraqi and international coalition airstrikes".
"Over a week ago, a rest-house was bombed there," he said.
Three militants who had been hiding out there were killed, "and the weapons, ammunition and explosive belts they possessed were destroyed".