Mosque preachers in remote parts of Ninawa province have been receiving active encouragement from the authorities to denounce extremism from their pulpits and promote peaceful co-existence.
Preachers from al-Shura district and Hammam al-Alil, south of Mosul, attended a January 8th workshop organised by the Tahreer Association for Development, with the Sunni Endowment in Ninawa and UN Development Programme.
The workshop, titled "Ways to reinforce peaceful co-existence through religious discourse", focused on imparting knowledge and skills that will help preachers promote religious tolerance in their sermons, and steer away from sectarianism.
This effort is part of a national agenda to focus on moderation via religious education, particularly in the provinces liberated from the "Islamic State of Iraq and Syria" (ISIS).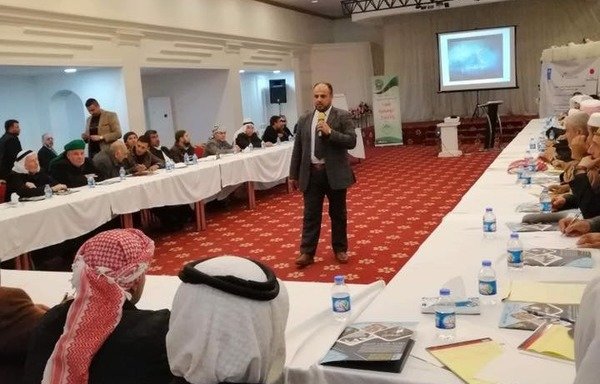 The training course sought "to motivate clerics and preachers to restore the warm relations and national cohesion among the various components of society", said Ali Osama of the Sunni Endowment in Ninawa's moderation unit.
Clerics are encouraged to adopt moderate rhetoric, he told Diyaruna.
The workshop drew 60 imams and preachers from remote areas in Ninawa, who received training from the the Sunni Endowment's guidance officials, he said.
Workshops like this can create a cultural and religious bulwark to prevent extremist groups like ISIS from returning to these areas, said Abdul Aziz al-Jarba, director of the Tahreer Association for Development.
The focus "has been on mosque preachers in remote areas, as communication and engagement with local populations there is weak", he told Diyaruna.
Confronting extremism
Anti-extremism workshops are important because "if a preacher promotes moderation, he can confront extremist ideologies that are spread by terrorist groups", said Dar al-Ifta in Iraq spokesman Amer al-Bayati.
Moderate religious rhetoric can counter the type of violent extremist ideology propagated online by the ISIS media machine, he told Diyaruna.
Moderate sermons serve as a sword "against the preachers of dissent, sectarianism and extremism" who were used by ISIS to incite hatred within deeply religious communities, al-Bayati said.
But governmental authorities, non-governmental organisations and schools also must play their role in stamping out extremism, he added.
"Confronting extremism is not the sole task of preachers and clerics, but is a national obligation shared by all other segments of society," he said.
"Extremism is not the exclusive domain of any one sect, ethnicity or group but can be seen across all religions, nationalities and ethnicities," he noted.