Medical students at the International Rescue University (IRU) in Idlib have been holding demonstrations to protest the university's closure, pursuant to a decision issued by the Tahrir al-Sham-affiliated "salvation government".
The decision to suspend educational activities at the university will result in thousands of students of all academic levels losing years of education, Idlib activist Haisam al-Idlibi told Diyaruna.
IRU medical students have been holding daily demonstrations in response to the ruling, he said.
"The decision to suspend educational activities at the university was made on the pretext that the university is not licensed," al-Idlibi said.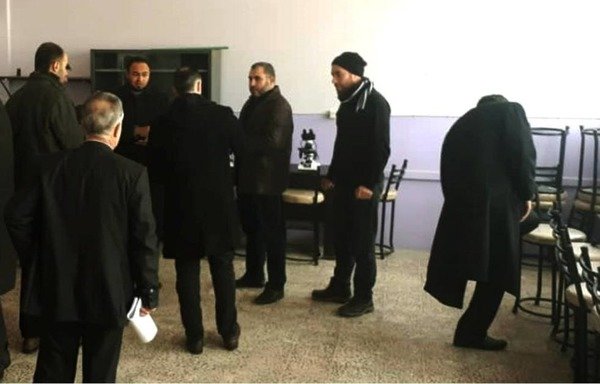 But the matter has nothing to do with licensing, he noted, and is rather a result of the refusal of the university's administration to acquiesce to Tahrir al-Sham's demands to take over the running of the institution.
This would have seen the appointment of Tahrir al-Sham officials and the imposition of stringent rules related to the dress code and the enforced segregation of male and female students, he said.
The students' future is at risk, he explained, as Tahrir al-Sham has prohibited them from enrolling in other universities in the region on the pretext that IRU is not licensed and therefore their academic records are not valid.
Student protests and an accompanying social media campaign, dubbed the "white coat" protests, have begun to yield results, al-Idlibi said.
The so-called salvation government sent a delegation to negotiate with the administration and reach a compromise that satisfies both sides, he said.
Al-Idlibi emphasized that the university meets all required curricula, academic and logistical standards, and therefore has "the undeniable right to be licensed".