As a key component of the security cordon along the Iraq-Syria border, the Iraqi Artillery Corps has been preventing "Islamic State of Iraq and Syria" (ISIS) infiltration and firing on the group's positions in Syria.
In a December 28th assault, the Artillery Corps engaged in heavy bombardment of ISIS targets in the Syrian towns of al-Shaafa and Hajin.
Several previous artillery attacks had helped to close the security gaps ISIS elements had exploited to cross into Iraq, which cornered the group's remnants in a small part of Syria, east of the Euphrates River.
"The Artillery Corps continues to target any enemy movement or hideouts inside Syria," said Joint Operations Command spokesman Brig. Gen. Yahya Rasul, noting that artillery fire has been as important as airstrikes.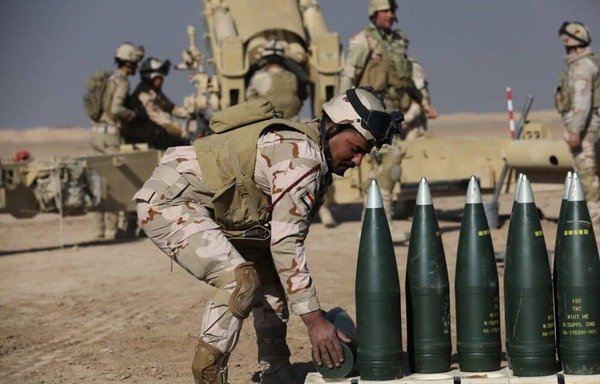 "We mostly use this type of weaponry to prevent ISIS from congregating [near the border] and planning any terrorist activity in our country," he told Diyaruna.
"Iraqi artillery has left its clear mark in obliterating terrorist locations during the liberation battles," Rasul said, noting that it now plays an effective role in securing the border with Syria.
Well trained and equipped
With trainers from the international coalition, particularly the French, the Artillery Corps has been taking part in exercises with live ammunition to hone soldiers' skills on advanced artillery and precision targeting, Rasul said.
"We are making significant progress in raising the bar for the artillery division," he said, adding that this includes an upgrade in weaponry.
"The Ministry of Defence is working to supply the latest high tech artillery weapons," he said, including the M198 howitzer, a towed 155 mm artillery piece with a range of 22 kilometres.
The Artillery Corps has seen a significant upgrade over the past couple of years thanks to the support of the French specialist training delegation, security expert Jassim Hanoun told Diyaruna.
"The French trainers have raised the capacity of the Iraqi artillery soldiers both theoretically and practically," he said, in addition to providing artillery and smart precision devices that track co-ordinates via a French satellite.
"Our soldiers are launching highly professional attacks against terrorist targets on the Syrian side, without giving ISIS any opportunity to infiltrate the border," he said.
The Artillery Corps is now better prepared and more nimble, Hanoun said, and is capable of deploying in remote desert areas to destroy ISIS hideouts.
ISIS is cornered in Syria
"ISIS has lost a number of ammunition and food storage facilities, as well as control, command and training centres and car bomb factories in eastern Syria as a result of Iraqi and international artillery strikes," Hanoun said.
The Artillery Corps, along with other military units deployed along the border, "have imposed a tight security belt that is reinforced by trenches, surveillance cameras and drones", he said.
There are further plans to reinforce security along the border, he added.
"There are now more army divisions, and another regiment from the Counter-Terrorism Service and the federal police also are expected to be deployed to fortify border patrol and stage emergency interventions," he said.
The Artillery Corps has a strong presence in the Iraqi border town of al-Qaim, al-Qaim mayor Ahmed al-Dulaimi told Diyaruna.
"The Iraqi Artillery Corps soldiers and their French counterparts are keeping a watchful eye on the enemy, and are constantly attacking their locations and gatherings on the area bordering al-Qaim in Syria," he said.
"ISIS has received painful strikes at the hands of these soldiers," al-Dulaimi said, adding that ISIS targets between Hajin and al-Baghouz in Syria are being pounded by heavy artillery and air raids.