Since the beginning of 2019, the Ninawa Police Command announced Wednesday (January 16th), 4,000 police have been reinstated into its ranks.
"In the past there was a shortage of police personnel, but our command has been compensated with this fine number of troops," police commander Maj. Gen. Hamad Namis al-Jubury told Diyaruna.
Some members of the Ninawa police dropped out of service after the "Islamic State of Iraq and Syria" (ISIS) overran the province in June 2014, and have been reappointed by ministerial orders after expressing their desire to rejoin.
The addition of these troops will help support efforts to secure Ninawa province, and Mosul in particular, where the police are responsible for security in all neighbourhoods and outlying areas, al-Jubury said.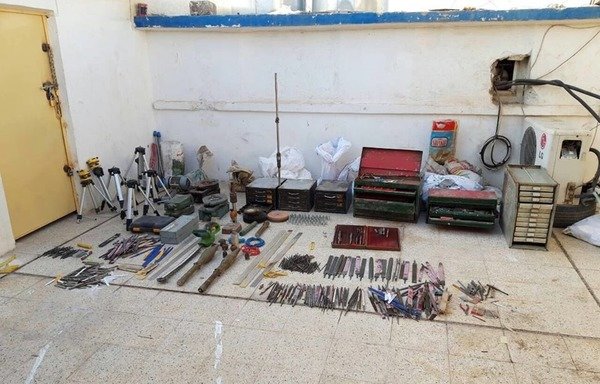 The move comes in response to earlier requests by provincial officials to increase the number of police, in light of the size of the province and the knowledge that some remote areas "are still considered a haven for militants".
Ninawa Police Command forces continue to carry out major missions in pursuit of ISIS cells and individuals who are wanted in connection with membership or co-operation with ISIS, he said.
Since the beginning of this year, he added, Ninawa police have arrested 10 men wanted for trial on charges of working in the ranks of ISIS during the time it controlled Mosul between 2014 and 2017.
Most of the detainees are former ISIS fighters, two of whom took part in battles against the Iraqi forces during the fighting to reclaim Mosul Dam, he said.
The wanted men were arrested in various parts of Mosul, he said: al-Mithaq, al-Wahda, al-Bakr, al-Tahrir, al-Tiseen, al-Uraibi and Karaj al-Shamal.
Hideouts and weapons caches
Multiple ISIS hideouts have been discovered in the Mosul area, al-Jubury said.
"Two days ago we received a message from a citizen about a stockpile of equipment and weapons buried in an abandoned house belonging to an ISIS element in the area of al-Nahrawan neighbourhood in western Mosul," he said.
"We immediately set up a team" comprising members of the Ninawa emergency police and the Ninawa intelligence and counter-terrorism departments, which fall under the auspices of the ministries of interior and defence, he said.
With the help of a K-9 unit, "the stockpile was found and destroyed", he said, revealing that it included an explosive belt, a rifle, 11 hand-grenades, 820 rifle rounds and 12 rifle magazines.
During another recent operation, the force destroyed an ISIS rest-house and two tunnels in the area of al-Sahaji, south-west of Mosul, al-Jubury said.
"Our security operations and search campaigns are carried out on a daily basis," he explained.
"Every directorate or unit belonging to our command carries out its duties within its geographical area of responsibilities, and in co-ordination with the local people," he said.