"Islamic State of Iraq and Syria" (ISIS) elements are still trafficking women and girls they abducted during their incursion into northern Iraq, an Iraqi official told Diyaruna on Tuesday (January 15th).
The Office for Yazidi Abductees' Affairs has information indicating that though it has been defeated in Iraq and is under fire in Syria, ISIS "is still active in the selling and buying of kidnapped Yazidi women", said director Hussein al-Qaidi.
Since the extremist group overran Sinjar on August 3rd, 2014, "thousands of Yazidi women and girls have fallen into the terrorists' hands, and have been handled as items for sale in private markets at different prices", he said.
"This type of crime continues to be committed to this day," he added, noting that his office is tracking the affairs of all Yazidis still held captive by ISIS in Syria, and is seeking to obtain any information about their fate.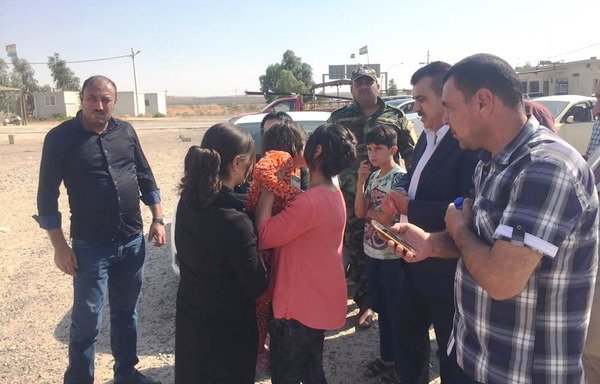 The Yazidi Facebook page Ezidxan on January 5th posted a series of "advertisements" ISIS elements had been circulating on social media.
These included photographs and information on the "qualities" and ages of Yazidi girls, women and children offered "for sale".
The authenticity of the ISIS posts could not be independently verified.
Ongoing efforts to free captives
The Office for Yazidi Abductees' Affairs in Dohuk is "continuing its efforts to free all abducted Yazidi women, children and men", al-Qaidi said.
"Two days ago, in a quality effort, we saved two families from ISIS in Syria who were kidnapped when the group overran Sinjar," he said.
The first family, consisting of a mother and three sons, had been living in the Dokari residential complex in Sinjar, and the second family, a mother and two sons, had been living in the city's Karzark complex, he said.
The members of the two families on Tuesday arrived in Dohuk province in Iraq's Kurdish region, from Sinjar, and were reunited with their relatives, al-Qaidi said.
On January 12th, the office rescued a 20-year-old Yazidi woman from ISIS captivity in Syria, he said.
The young woman had been abducted from her village of Koujou in Sinjar on August 15th, 2014, he said, noting that ISIS elements later brought her to Syria.
The rescue operation was beset by difficulties and complex circumstances, but the office finally managed to accomplish its task successfully, al-Qaidi said.
A total of 3,342 Yazidis have been rescued by the Office for Yazidi Abductees' Affairs since it opened in October 2014, he said, out of a total of 6,417 Yazidis kidnapped after ISIS attacked Sinjar, mostly children, girls and women.