Five "Islamic State of Iraq and Syria" (ISIS) elements were killed in the desert of al-Rutba in western Anbar province, an Iraqi official announced Monday (January 14th).
"Iraqi warplanes on Saturday bombed a small pick-up truck carrying five terrorists," al-Rutba mayor Emad al-Dulaimi told Diyaruna.
The strike "took place in a desert area called al-Jalabat, about 80 kilometres south of al-Rutba", he said.
The extremists were under aerial surveillance by the Anbar Operations Command, he said, and were struck while seeking to hide in the desert after an attack on an Iraqi post on the border with Saudi Arabia -- which did not cause any casualties.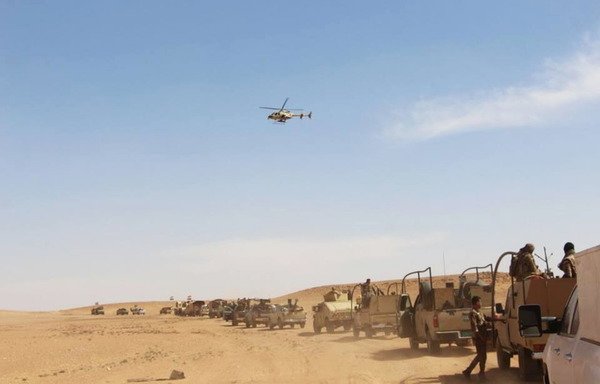 "The terrorists who were killed were very dangerous ISIS elements," al-Dulaimi said, revealing the identity of three who were "prominent leaders in the terrorist group".
Salah Ahmed Ouda Harat was in charge of a terror cell involved in the assassination of local dignitaries and officials in al-Rutba district, he said.
The most notable of the cell's victims was sheikh Munir Akab, a mosque imam and headmaster of a school in the al-Qarya al-Almaniya area in al-Rutba, who was assassinated on October 19th, said al-Dulaimi.
"Two of the other terrorists were Karim Allawi Harat and Ahmed Mohammed Mahmoud al-Qaraghuli," he said.
They were responsible for several terror attacks and were involved in extortion operations to extract money from residents during ISIS's control of al-Rutba, he said.
ISIS infiltrations in decline
The killing of these elements is a "major achievement for our forces, which have recently begun to focus on launching precision attacks against specific terrorist targets", al-Dulaimi said.
These attacks are accompanied by continuous searches of desert areas, he said, noting that security forces on Sunday launched a military operation to search for ISIS remnants and hideouts south of al-Rutba.
"The forces are tightening the noose around the terrorists' necks in the desert and not giving them freedom of movement or any time to set up secret bases," he added.
Even though the desert operation is not complete, al-Dulaimi said, "the military campaigns have greatly contributed to reducing the remnants' numbers and influence".
"Cases of infiltration of terrorists into al-Rutba district have greatly declined," he added.