The Syrian regime has been rounding up men in areas under its control to ensure they fulfill their mandatory military service, local activists tell Diyaruna.
In response to this crackdown, thousands of men under the age of 42 who reside in regime-held areas have fled or gone into hiding, they said.
"The Syrian regime has begun to tighten enforcement of the mandatory military and reserve service," Syrian lawyer Bashir al-Bassam told Diyaruna.
This effort is being undertaken in order to alleviate the manpower shortage in the ranks of the army, he said.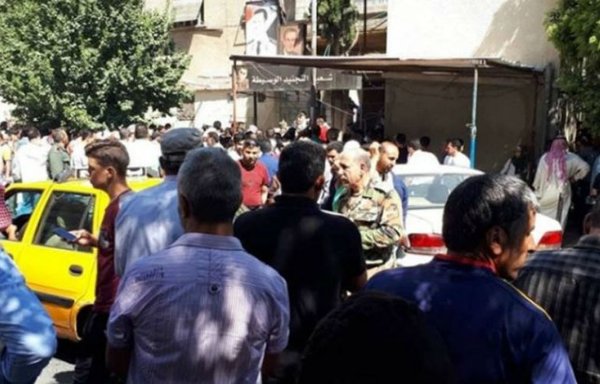 The shortage stems from heavy losses on the battlefronts, the evasion of military and reserve service by thousands of youth opposed to the regime, and the defection of thousands of soldiers since the outbreak of the Syrian conflict, he explained.
"The shortage was compounded by the discharge of thousands of troops who were part of conscription batch 102 and had served eight years," he added.
The legal length of service duty was reduced from 21 months to 18 months in 2011.
Dozens of recruitment offices have been opened in all areas, "in addition to permanent offices in universities that check the files of students in order to forcibly take them away to serve their military and reserve duty", al-Bassam said.
Additionally, "a decree was issued prohibiting the graduation of students who complete their studies before they settle their status with the conscription department", he said.
Going back on promises
The Syrian regime had previously issued statements excusing thousands of youth living outside the country from military and reserve service.
But hundreds of those who returned over the past two months have been detained and led away to military training camps, al-Bassam said.
"The lists of those wanted for mandatory military and reserve service include more than 250,000 names from all Syrian regions, with the exception of the Idlib and northern Syria region," he said.
These areas are still outside the regime's control.
The regime broke its promise to those wanted for reserve duty, he said, by going back on a previous decree in which it had announced that thousands of names had been taken off the lists and excused from service.
The option of paying a fee in lieu of military service has now been rescinded.
"These decrees are prompting thousands of youth to try to flee Syria to evade the many years of military conscription via the smuggling outlets that have been in use over the past years, or by legally moving to neighbouring countries," he said.
Resentment running high
"Deep resentment prevails in regime-controlled areas because of the wide-scale deployment of military police in all regions and pursuit of men and youth under the age of 42," said activist Mohammed al-Beik, of Eastern Ghouta.
Men of conscription age are either transported to training camps ahead of serving their mandatory military service, or to military posts to serve their reserve duty, he told Diyaruna.
Resentment "is highest in the regime's most loyal regions, such as Damascus, Latakia and Tartous, because of the humiliating way security personnel are treating the sought-after youth", he said.
"They are being arrested in a harsh manner and transported in closed trucks, some of which are used in the transport of meat, while shackled in irons and chained to each other like criminals," he said.
Conscription centres and offices that issue travel permits are crowded with youth and their families who seek to obtain exemptions or postponements for various reasons, al-Beik added.
"However, all these permissions also have been put on hold, and travel permission is not being granted except, of course, to the sons of influential political and military figures," he said.
These families have been able to get their sons out of the country or have their names removed from the wanted for conscription lists, he added.
Violating truce agreements
Regime forces have imposed a blockade on Eastern Ghouta, and are conducting daily raids to round up young men for their mandatory military service, al-Beik said.
This is being done even though, per the truce agreements, youth in the region are allowed a one-year exemption period, he added.
"Southern Syria regions, especially Daraa and its environs, are boiling with anger over the random arrests of youth over the age of 18 for conscription and reserve duty," Daraa activist Jumaa al-Masalma told Diyaruna.
These arrests are taking place despite the agreement reached between residents and the regime to postpone their service for at least one year, he said.
Additionally, per the agreement with the regime that stipulated that opposition fighters withdraw from the region and hand over their weapons, a large number of youth would be exempted from military service, he said.
"The majority of the youth who are arrested are taken to hot spots in Idlib and Deir Ezzor, even though the agreement stipulates that after the passage of one year, their area of service would be Daraa or southern Syria," al-Masalma said.