The Gulf Co-operation Council Emergency Management Centre (GCC-EMC) in Kuwait hosted a workshop from December 10th to 13th to raise the GCC's capabilities in dealing with chemical and biological threats.
The workshop -- "Foundations of Chemical and Biological Threats" -- was delivered by EU Chemical, Biological, Radiological and Nuclear (CBRN) experts, under the framework of the EU CBRN Centres of Excellence Initiative for the GCC countries.
It was attended by a large number of risk management specialists and professionals from the Gulf states and representatives of the UN Inter-regional Crime and Justice Research Institute (UNICRI) and the 35th Infantry Division of the US Army.
The workshop was conducted after a GCC-EMC study showed that the biggest threats in the region were intentional or unintentional CBRN incidents.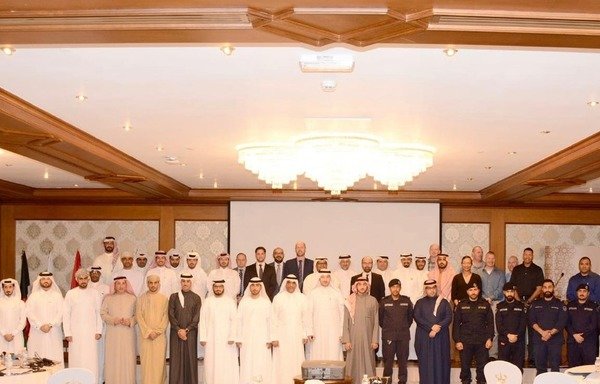 Lt. Col. Nasser Rashed, a Kuwait Army infantry officer and workshop participant, told Al-Mashareq the workshop comes as part of the GCC states' continuous efforts to increase their readiness to respond jointly to any emergency.
This is done through "periodic review of the latest research, data and tools that enhance not only their defensive and offensive capabilities but also their preventive capabilities to ward off potential threats", he said.
Threats include biological and chemical weapons, which some terrorist groups and states are moving to use to threaten the security of citizens, he said.
"These threats spread rapidly and have a devastating impact, which makes preventing them, or responding to them in the event they occur, a top priority for Gulf states," Rashed said.
The participation of UN and US army specialists in the workshop is "very important", he said, in order for GCC specialists to get acquainted with the latest technological advancements and to enhance co-operation between the two sides.
Some of the threats are common to all sides, he said, such as the threats posed by armed groups affiliated with Iran's Islamic Revolutionary Guard Corps (IRGC) and other extremist groups, such as al-Qaeda and the "Islamic State of Iraq and Syria" (ISIS).
The workshop was also attended by professionals in the fields of emergency medical services (EMT), rescue and the environment, "since they are an integral part of the comprehensive response to such threats and active participants in mitigating their impact", Rashed said.
IRGC poses regional threat
GCC countries, through the Emergency Management Centre (GCC EMC), have "compiled a list of risks that they could be exposed to, including regional threats," said Col. Rashid Mohammed al-Marri, formerly of the Dubai Police Anti-Narcotics Department.
These include threats posed by the IRGC and affiliated militias, as they "possess capabilities they could use to strike the region at any time", he told Al-Mashareq.
"Hence, keeping a close watch on them is essential for Gulf States," he said, noting that this should happen through continued joint co-operation between the GCC and the US army.
The risks emanating from biological and chemical weapons are "huge" and "their impact is devastating", said former Saudi military attaché Maj. Gen. Mansour al-Shehri.
Steps to respond to these threats are conducted along two tracks, he said: the first is through monitoring and follow-up to prevent the occurrence of such attacks, while the second involves how to respond in the event they do occur and how to mitigate their effects.
"Joint co-operation among Gulf States is necessary and essential for the success of the comprehensive response to these threats," al-Shehri told Al-Mashareq.
It is also necessary to co-operate with US forces deployed in the region because of the expertise and training they have in this regard, he added.
Gulf States and the US are military and political partners, he said, adding that "they face a common potential threat in the IRGC", which could venture to use biological and chemical weapons, albeit indirectly through its proxies in the region, such as Lebanese militia Hizbullah and the Yemen-based Houthis.