In a sight that was missed for the past few years, al-Raqa city is bustling with activity once again more than a year after its liberation from the "Islamic State of Iraq and Syria" (ISIS).
Playgrounds are teeming with children, cafés are packed with youth and reconstruction work is progressing despite a lack of funding, residents tell Diyaruna.
The al-Raqa Civil Council -- the Arab-Kurd autonomous administration -- has been providing basic services such as electricity, water and food.
Life also has returned to the markets, particularly the famous Friday market, thus restoring relations between residents of the city and residents of its rural areas.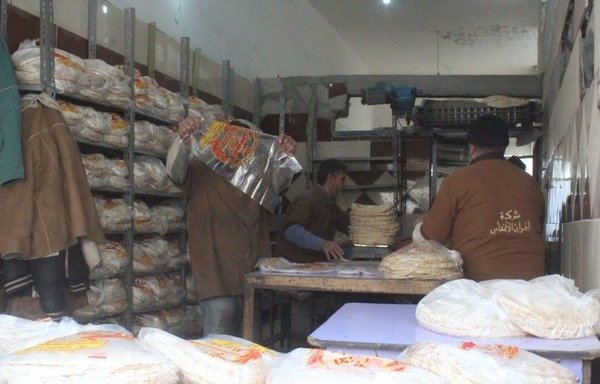 Jobs, leisure
"Humanitarian organisations, in co-ordination with al-Raqa's al-Shaab municipality, have rehabilitated the children's playground in the city," said Sanaa al-Haj Hassan, who works with a humanitarian organisation concerned with the welfare of women and children.
They planted trees and bushes, equipped the park with play structures and installed safety flooring, she told Diyaruna.
The playground still needs some rehabilitation and equipment pending funding, she said, noting that it was totally destroyed in the war that took place in the city.
ISIS had turned the playground into a mass grave, Hassan said, "hence, all the remains buried in it had to be moved to the city's cemeteries".
Meanwhile, the civil council has been organising employment competitions for al-Raqa's youth in all areas of specialisation, said Mohammed al-Jassim, who works with the council's local administration committee.
To this end they have organised employment competitions, he told Diyaruna, noting that more than 1,700 youth from all specialties, including self-employed workers, craftsmen and university degree holders, have so far submitted their resumes.
The council's reconstruction projects provide a great employment opportunity for the youth of the region, he said, adding that a recent competition yielded several construction truck driving jobs with the local administration committee.
Vibrant markets
Al-Raqa resident Mahmoud al-Amin said life "has largely returned to normal" in the city.
"Residents feel secure, especially that all aspects of life have returned to normal in the city, albeit slowly," he told Diyaruna.
Food is available at reasonable prices, some of which are subsidised, such as bread, he said, noting that around 40 bakeries are now operational in the city and its rural areas, which has helped shorten the queues for this staple item.
The city's famous Friday market with its historic reputation has also reopened its doors in its original location in the north of the city.
Its shops sell basic items, clothing and household supplies at prices lower than regular retail stores, which has revived traffic considerably between the city and its rural areas, he said.
"Security and regulatory agencies are diligently carrying out their duties in terms of maintaining security and monitoring prices and the quality of the products offered for sale," al-Amin added.
Sporting and social events also have returned to the city's cafés and restaurants where the youth are once again congregating in a sight that was sorely missed over the past period.
This has significantly helped to restore relations between residents, he said.
Reconstruction work ongoing
Meanwhile, the removal of rubble is conducted in co-ordination with the security forces and early intervention teams to detect mines and exhume bodies found under the rubble or in the graves dug by ISIS prior to fleeing the city, said Khalid Mustafa, who serves on al-Raqa Civil Council's reconstruction committee.
"Only 15% of rubble remains to be removed, in addition to the rubble that residents submit [individual] requests for its removal," he told Diyaruna, which is completed according to a separate schedule based on the time of request and amount of rubble.
Work progress will be slow during the winter season because of weather conditions, he cautioned.
"The focus is currently on completing a number of electricity-related work, as 20 new transformers have been installed," said Mustafa, adding that solar-powered light poles were installed in the streets.
As funds are lacking, reconstruction works are currently being done at the expense of the residents who want their homes rebuilt, he said.
Repair work is ongoing "under the supervision of monitors and engineers affiliated with al-Raqa Civil Council to ensure no transgressions are committed against private or public property", he said.