Security forces in Iraq's Kurdish region are launching pre-emptive operations to flush out pockets of "Islamic State of Iraq and Syria" (ISIS) remnants.
Backed by the international coalition, these forces have launched a series of attacks to root out ISIS networks in southern Suleimaniyah province.
The group is trying to regain power in the rugged terrain on the administrative border between Suleimaniyah, Diyala, Salahedddine and Kirkuk provinces.
Peshmerga forces, supported by international coalition air power, launched a series of attacks against pockets of ISIS fighters last week in southern Suleimaniyah, said Karmian town police spokesman Col. Ali Jamal Qadouri.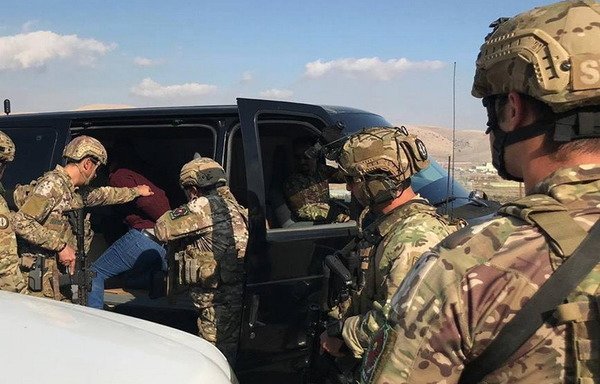 The attacks were concentrated in the Palkana area in Kifri district, which is under the jurisdiction of the Karmian police.
Intensive coalition strikes focused on pockets of ISIS fighters who had been located via intelligence provided by the Peshmerga, Qadouri said.
The strikes were followed by large scale search operations in and around Palkana, he added.
The joint assault killed a number of ISIS elements and destroyed the group's hideouts in the area, he said, describing the operation as "successful".
Joint Karmian, Peshmerga and Kurdish Asayish forces (Kurdish security forces) followed up with an operation to clear the roads of unexploded ordnance planted by ISIS in Palkana.
"While dismantling the explosives, ISIS militants attacked our forces and we exchanged fire and managed to drive them away to an unknown destination," he said.
'We will not stop hunting down ISIS'
Extremists have been trying to reinforce their presence within the administrative border districts between Suleimaniyah and nearby provinces, where the mountainous and rugged terrain makes it harder for security forces to reach them.
"We will, however, continue to carry out our pre-emptive operations there and will not stop hunting down ISIS and laying traps for them until we arrest or kill them all," Qadouri said.
The coalition's support is essential in achieving that goal, he said, adding: "The partnership with [coalition forces] is achieving important results as we continue with our plans to defeat the terrorists."
Asayish forces in Suleimaniyah said on December 8th that between September and November, they detained six members of a network affiliated with ISIS, including inghimasis [suicide bombers].
Two ISIS suicide bombers known as Amir, 19, and Karwan al-Kurdi, 18, were arrested in a September 3rd operation, they said in a statement.
On November 10th, the Asayish arrested the person in charge of transporting extremists to Suleimaniyah who is known as Abi Omar, 28; and two suicide bombers, Abi Sufyan al-Kurdi, 21, and Jalak al-Kurdi, 16.
Two days later, another suspect accused of transporting extremists to Suleimaniyah was detained, the statement added.
This network was run by extremists who are active in Kirkuk and Diyala provinces, the most prominent of whom are Haj Musab who supervised the suicide bombers, according to the statement.
Strong resistance
Former Kurdish member of parliament, Abdul Bari Zibari, saw these pre-emptive operations as proof that the plans in place to wipe out ISIS elements and cells are on track.
"Although the group has been seeking to resume its activities, there has been strong and swift resistance by the Peshmerga and other Iraqi forces," he told Diyaruna.
Collaboration between the central government and the Kurdish regional government "has yielded positive results during the battles against ISIS, and was a key factor behind the defeat of the terrorist group", he said.
Similarly, the Kurdish forces' partnership with the international coalition is "strong", he said, adding: "Just like we succeeded together in expelling ISIS, so we will continue to collaborate to crush the remaining pockets of the group."
ISIS is looking to take advantage of divisions and political rivalries to regroup, particularly on the border areas between the Kurdish region and other Iraqi provinces, notably Kirkuk, said Khaled Abdul Illah who teaches political sciences at Baghdad University.
Enhanced co-operation between the Kurdish regional government and the Ministry of Defence is important and will serve as a road block to increased terrorist activity, he said.