The Iraqi air force on Sunday (December 16th) destroyed a tunnel the "Islamic State of Iraq and Syria" (ISIS) was using as a hideout in the Atshana mountain range northwest of Mosul, the Joint Operations Command said.
Four ISIS elements who were hiding in the tunnel were killed in the airstrike.
"Accurate intelligence recorded the activity of scattered ISIS remnants deep in the Atshana mountain range," said Joint Operations Command spokesman Brig. Gen. Yahya Rasul.
After monitoring the site, the Iraqi air force conducted "a successful airstrike" that "completely destroyed the tunnel and killed all the terrorist elements holed up inside it", he said.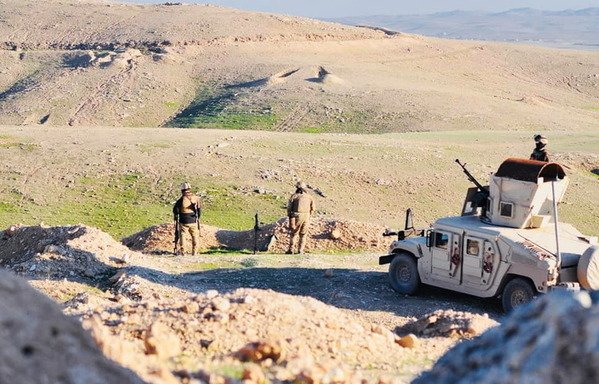 "This is not the first operation of its kind in the region," Rasul said, as it was preceded by other operations and airstrikes against ISIS remnants hiding in the mountain range.
ISIS elements use the Atshana mountains as a hiding place and a launchpad to infiltrate remote villages west of the city of Mosul and threaten their security, he said.
"There are still terrorist elements hiding in these mountains and other highlands and desert areas, but we will not stop pursuing them," he said.
Airstrikes in Iraq, Syria
The air force on Sunday conducted another strike on a terror target in Salaheddine province, Rasul said.
Iraqi warplanes targeted a bulldozer, killing its driver "who was building a small bridge on a river in the area of al-Zarka between the cities of Tikrit and Tuz Khurmato to facilitate terrorists' crossing", he said.
They also killed a militant riding a motorcycle in the area, he said.
The ongoing airstrikes against ISIS terrorists "will not only be confined to their sites and locations in Iraq, but will also include Syria", he said.
Iraqi fighter jets on Tuesday (December 11th) bombarded the Syrian town of al-Sousa where an ISIS meeting was underway, killing dozens of the group's elements, including suicide bombers.
"The attack, which was based on intelligence from the Hawks Intelligence Cell, had a major impact on the enemy's powers and morale," Rasul said.
"We will not hesitate to take any necessary action to end the terrorist threat," he added.