Mukhtars, who often serve as the first line of defence for their communities, have been targeted by the "Islamic State of Iraq and Syria" (ISIS) as the group attempts to deter them from their duties, local officials told Diyaruna.
As local dignitaries who head a village or neighbourhood, mukhtars have co-operated extensively with the authorities and security forces to ensure ISIS remnants do not infiltrate their areas.
Despite a spate of attacks on the homes of mukhtars, most remain defiant.
"ISIS will not defeat us," vowed a mukhtar in Fallujah, who asked that his identity remain undisclosed for security reasons.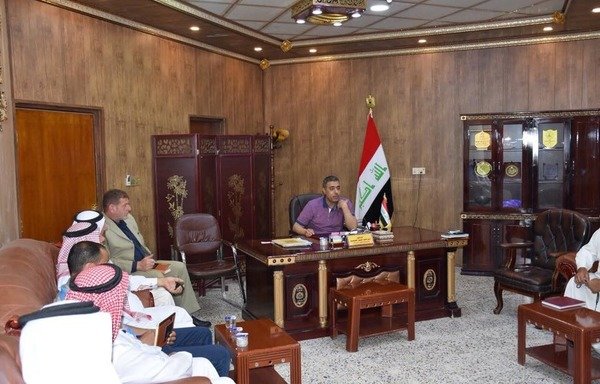 "We have resisted it under tougher circumstances, and will remain defiant until we bring it down," he told Diyaruna. "Our forces are defeating pockets of terrorism, and we will not shirk our responsibility to pass on intelligence."
Violence against mukhtars is nothing new, said Ninawa provincial council security committee member Hassan Shabib, noting that ISIS has targeted them in previous years.
"The return of this threat at this level confirms that the group is feeling threatened as its elements fall one after the other due to the intelligence work of the mukhtars," he told Diyaruna.
Mukhtars take on larger role
Mukhtars have been seeking to take on a larger security role, in addition to their main duties, which include monitoring strangers and suspicious movements in the villages and neighbourhoods for which they are responsible, Shabib said.
Some have started to tally the number of families in each home, he noted.
The community heads have been providing security forces with a trove of information about the residents of their areas, including displaced Iraqis who have moved into their communities from other areas, he said.
"Also, mukhtars now have the final say in a court of law, as their testimonies and statements and the information they have in their possession is key to indicting and issuing verdicts against members of ISIS," he said.
This support for the authorities has come in response to ISIS's oppression of innocent people, "which prompted everyone, including mukhtars, to do whatever they could to bury the tragedy of terrorism forever", Shabib said.
In response, ISIS elements have sought to threaten the mukhtars, hoping they will back away from their responsibilities or leave their areas, he added.
"However, the opposite has happened," he said, noting the "determination and defiance on the part of the mukhtars to do their job" and serve their country.
Attacks on village chieftains
In early November, AFP reported that ISIS had executed nine mukhtars over the previous seven months in Kirkuk province.
On November 2nd, Abdallah al-Wasmi, the mukhtar of the village of Mahmudiya near the town of al-Hawijah was executed by ISIS elements who attacked his home, a local security official said.
His death followed the October 31st slaying of the mukhtar of nearby Hanutiya.
And on October 29th, a provincial official said, "ISIS fighters attacked the home of Mohammad Jumaa, the mukhtar of the village of Jamasiya" near al-Hawijah.
"They took him out of his house and executed him in front of it before fleeing," the official said.
On November 26th, local media reported that Abdullah Hassan Ali, the mukhtar of al-Ayadiya in Nimawa province's Tal Afar district, had been assassinated in an attack on his home, which left his wife severely injured.
Mukhtars 'blacklisted by ISIS'
There are 73 mukhtars assigned to villages within the borders of the Mosul subdistrict of al-Qayyarah, and they are conducting their business as usual, said al-Qayyarah district director Saleh Hassan Ali.
"During our repeated meetings with them, these mukhtars have insisted that they do not fear ISIS and that they will continue to support the security forces until the last terrorist is defeated," he told Diyaruna.
Security forces have started to issue licenses to the mukhtars to "possess and carry weapons to protect themselves against terrorist attacks", he said, adding that security forces and local authorities continue to work with the mukhtars.
"Terrorists are cowards, which their attacks clearly prove," he said.
By targeting mukhtars, ISIS is trying to protect itself against individuals it perceives to be a significant source of threat, strategy expert Ahmed al-Sharifi told Diyaruna.
"The mukhtars are blacklisted [by ISIS] due to their effective efforts to undermine terrorism in alignment with the deterrent strategy followed by the security and intelligence forces," he said.