The Iraqi government has undertaken hundreds of service sector reconstruction and rehabilitation projects in cities liberated from the "Islamic State of Iraq and Syria" (ISIS), an official from the national reconstruction fund said.
These projects have been funded by the Iraqi government, while it waits for international donor funding pledged at the Kuwait International Conference for Reconstruction of Iraq in February to arrive.
Donors pledged $30 billion to support over 200 reconstruction projects in Iraq.
More than 500 of 722 planned reconstruction projects, across several sectors, have been implemented in liberated cities to date, said Mustafa al-Hiti, who heads the Reconstruction Fund for Areas Affected by Terroristic Operations.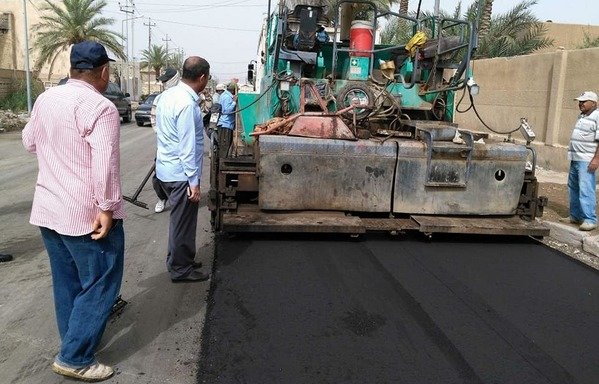 "Earmarked funds from the national budget paid for these projects," he told Diyaruna, with the majority of them "specifically focused on restoring drinking water in the cities that have been affected by acts of terrorism".
Projects included the rebuilding of 53 schools in Ninawa and Anbar, the rehabilitation of 42 of the University of Mosul's buildings, and the repair and repaving of 300 kilometres of roads damaged during the battles to oust ISIS.
Additionally, al-Hiti said, a number of damaged power plants were replaced, and other projects were implemented in the health and security sectors.
"The rehabilitation of the Ramadi and Nadhim al-Wirwar dams in Anbar are some of the most important projects, as they will provide irrigation water for around 15 million people," he said.
The dams will support crops, as well as projects related to energy and economic development, he added.
Iraq is awaiting the release of funds pledged at the Kuwait conference, he said, as these will accelerate reconstruction efforts "and help ease the economic burden on the country".
Reviving Iraq's economy
The Iraqi government has formed a committee that is tasked with "ensuring donor pledges are actually implemented", planning ministry spokesman Abdul Zahra al-Hindawi told Diyaruna.
"At the [Kuwait] conference, we presented more than 200 investment opportunities based on a national vision," he said.
The intention was to encourage investment in Iraq instead of burdening the country with loans as it tackles reconstruction, he added.
"We requested investments instead, and vowed to make it easier for investors to work freely and safely," he said. "We will work through the government committee to achieve progress and incentivize donors to fulfill their pledges."
Iraq had put in place a two-stage reconstruction plan that started at the beginning of this year and will extend until 2020, al-Hindawi said, noting that it focuses on stability operations in the liberated cities.
The second phase, expected to conclude in late 2027, will see the implementation of strategic projects related to agriculture, industry, roads and bridges, he said.
Some of these projects, such as the rehabilitation of Mosul Airport, have already begun, he added.
Accelerating reconstruction
"Investments are the the most ideal way to accelerate the pace of reconstruction and development, particularly in the liberated areas," economist Majid al-Suwari told Diyaruna.
According to government estimates, a total of $88 billion is required for reconstruction, "which is quite a significant sum", he said.
Iraq cannot pay for this alone, he added, which means "we have no other choice but to seek investments, which, in turn, requires a transparent institutional process with no place for [excessive] bureaucracy and corruption".
Competent management is essential, along with plans that create an attractive environment for investment capital, al-Suwari said.