Idlib University students are continuing to hold protests against the dismissal of a number of professors who oppose decisions taken by the university's administration, which is affiliated with Tahrir al-Sham, a local activist said.
Students have held several protests against the dismissal, and have said they will not stop protesting until the university reverses its decision, and the professors are reinstated and paid the back salaries that are owed to them.
"The president of Idlib University circulated a decree issued by the civil administration, which is controlled by Tahrir al-Sham, ordering the suspension of 13 university professors," Idlib activist Musab Assaf told Diyaruna.
The reason given for the suspension was "an administrative infraction related to the professors not having signed a pledge to refrain from working at unlicensed universities", Assaf said.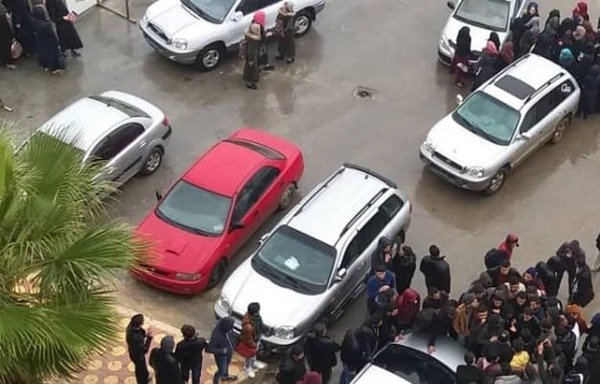 But the students believe the reason cited in the administrative decision was merely a pretext, noting that the dismissed professors oppose Tahrir al-Sham.
The professors in question are faculty members who have helped found the university a few years ago with the support of local backers, he said, before Tahrir al-Sham seized control of its administration.
According to Assaf, the protesting students have said they will not stop demonstrating until the university reverses its decision and the professors are reinstated to their positions and receive their suspended salaries.
Tension between the university's administration and the dismissed professors began some time ago, Assaf said, when a number of Tahrir al-Sham elements were appointed as professors at the university's faculty of sharia and law.
Among them are Egyptian extremist Yahya Taher al-Farghali, also known as Abu Fateh al-Farghali, who is a Tahrir al-Sham commander and sharia official.
The professors opposed the decision on the basis that students would receive erroneous instruction on matters of religion, seeing the decision as a means for Tahrir al-Sham to disseminate its extremist ideology.
Tahrir al-Sham has been trying to propagate its own hardline ideology as widely as possible, he noted, "to ensure its continued control over Idlib province".