Iraqi forces on Monday (November 26th) destroyed six rest-houses that had been used by "Islamic State of Iraq and Syria" (ISIS) holdouts in Kirkuk, an official from the province said Tuesday.
Federal Police launched the operation based on information from the Kirkuk Intelligence Directorate, Kirkuk province information office director Marwan al-Ani told Diyaruna.
The operation set out to track down "terrorist elements hiding in Wadi al-Shay, between the cities of Daqouq and al-Rashad" in the south-western part of the province, he said.
During the operation, police found three rest-houses containing stocks of explosive materials, "as well as explosive belts and weapons of various kinds", al-Ani said.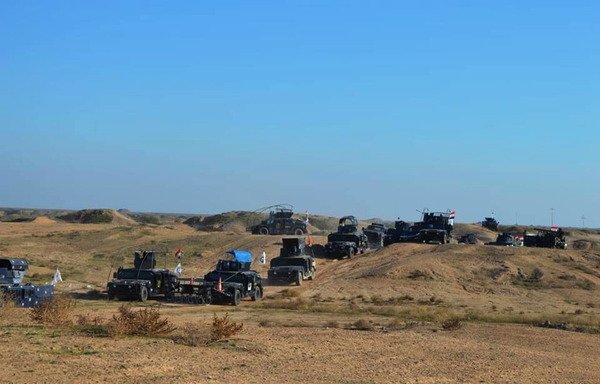 These items were destroyed, and the rest-houses were burned down, he said.
The operation comes six days after Iraqi forces discovered 20 ISIS sites in the same area, using information provided by a captured ISIS leader, he said.
The sites included tunnels and tents equipped with food and supplies, according to a statement by the Security Information Centre.
One of them had been used as an ISIS training camp, the statement said.
International coalition aircraft have launched a series of strikes in recent days, killing three ISIS leaders "who were posing a threat to the security of the areas between Kirkuk and the provinces of Salaheddine and Diyala", al-Ani said.
Counter-terrorism Service forces on Monday moved into the highlands of al-Dibs district in north-western Kirkuk, where they "found and destroyed three other rest-houses", he said.
ISIS remnants under fire
The targeting of ISIS hideouts continues, al-Ani said, as a small number of militants are still hiding in uninhabited areas between Wadi al-Naft and Wadi al-Zughaitoun in al-Hawija district, in western and south-western Kirkuk.
"These terrorists exploit the caves and the thicket to hide while they travel in secret in groups of no more than a few elements, carrying out from time to time treacherous attacks on civilians and agricultural villages," he said.
"But the security forces do not stand idly by with regard to any threat, constantly waging operations against terrorist sites with the help of the local people," he added.
So far this year, security forces have killed 310 ISIS elements and leaders in Kirkuk province and have arrested dozens who are wanted on terrorism charges, al-Ani said.
They also have destroyed about 50 rest-houses ISIS had set up during the late 2017 battle to liberate al-Hawija "as part of plans to turn those sites into launchpads for attacks", he said.
"In the coming period, we will witness more effective, quality operations to defeat the terrorist remnants," he said.