Tahrir al-Sham has begun to implement a plan to confiscate properties owned by former and current Christian residents of Idlib province, a local activist said.
All those who have the authority to administer the properties of Christians, through power of attorney or verbal agreement, have received a summons to appear at the extremist alliance's offices, Idlib activist Mahmoud Haj Kamel said.
They have been instructed to hand over the properties within a set period of time, he told Diyaruna.
"A few days ago, Tahrir al-Sham began notifying those who occupy or administer a property owned by Christians that they must appear before its real estate and bounty office within three days from the time they are notified," Kamel said.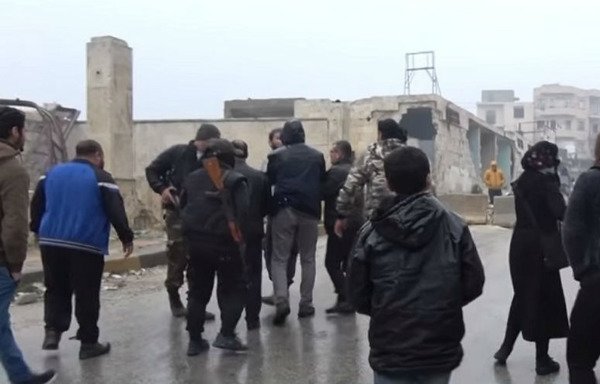 They have been instructed to transfer the ownership of that property to Tahrir al-Sham, which will then have the right to use it and benefit from it, he said.
Before issuing this summons, Tahrir al-Sham had emptied some of the houses owned by Christians, and housed its own elements and emirs in them, he said.
Tahrir al-Sham occasionally announces it wishes to sell or rent out properties, particularly shops and agricultural lands, he added.
Christians forced out
Most Christians have fled Idlib province in recent years, and the few who remain are scattered throughout a few neighbourhoods in Idlib's Old City and some rural villages, Kamel said.
There are no more than 1,000 Christians remaining in Idlib province, he said, adding that most of those who have opted to stay are elderly.
Those who fled to regime-controlled areas or left the country altogether put friends or neighbours in charge of their properties, either through verbal agreement or power of attorney, Kamel said.
But Tahrir al-Sham no longer recognises such agreements or authorisations.
"The move has sparked widespread condemnation from Idlib residents, who reject it and see it as a means to expel the area's Christians once and for all and to portray them as undesirables," Kamel said.
This is bringing about a demographic change in the region that empties Idlib of its Christians, who had long co-existed with Muslim residents, he said.
This co-existence is evidenced by the fact that "those who cared for Christian-owned properties in their absence were Muslim neighbours and friends", he said, adding that many of these interim caretakers had faithfully sent the money earned from the rental of shops and agricultural lands to their rightful owners.