Anbar residents have been handing over family members who have been involved with the "Islamic State of Iraq and Syria" (ISIS) to security authorities in the province, an Iraqi tribal leader said Tuesday (November 20th).
Some families in western Anbar have been able to convince relatives wanted for their involvement with ISIS to surrender to the authorities, said Sheikh Qatari al-Samarmad, commander of the tribal forces in al-Baghdadi district.
These families have convinced their relatives there is no point in continuing to hide out in the desert, as the security forces will not stop tracking them and will find them, arrest or even kill them sooner or later, he told Diyaruna.
"The only way they can be saved is to surrender and let justice take its course," he said.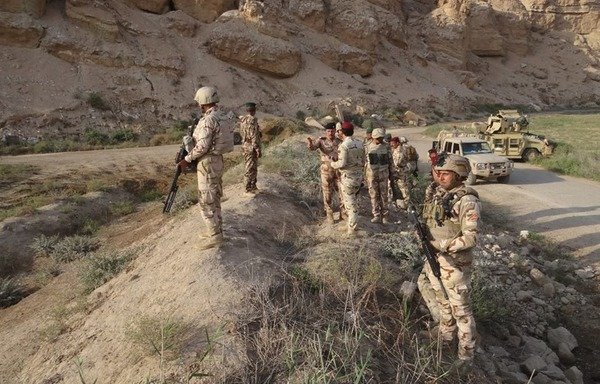 In recent weeks, he said, "more than 20 wanted individuals have responded to their parents' calls, and voluntarily gave themselves up through their families".
They are now being held in Ramadi prison, he added.
Iraqi forces from the Anbar and al-Jazeera commands have issued several calls for ISIS remnants hiding in desert areas to surrender, he said.
Their decision to voluntarily hand themselves over will be taken into consideration when they go trial, al-Samarmad said.
The so-called "Last Warning Operations", which kicked off on October 8th, have included large-scale tracking of ISIS remnants and their secret desert bases.
The campaign has included leaflet drops and warning messages, giving the ISIS holdouts a choice between surrender and death, al-Samarmad said.
Strengthening social fabric
The recent surrenders came "in connection with local efforts to close the ISIS phase and strengthen social co-existence", al-Samarmad said.
"There is regular communication and meetings between security leaders, tribal leaders and dignitaries and local residents in western Anbar," he said.
During these meetings, the various stakeholders discuss ways to strengthen security and enhance joint co-operation in dealing with ISIS remnants and sleeper cells, he said.
"These meetings have contributed to alleviating many problems, most notably the issue of families that have children who were part of ISIS," he said.
"There is a wish to end the displacement of women, children and the elderly in those families, and to return them to their homes and accept them as any other citizen, who have responsibilities and duties, and also have rights," he added.
"We seek to strengthen the rule of law and eliminate any source of conflict that might threaten the social fabric and the strong relations between the tribesmen," al-Samarmad said.
During the time it was in control, ISIS tried to spread hatred and animosity among the tribes, he noted.
Tribal leaders, clerics, academics and civic activists continue to organise awareness-raising courses and seminars in schools and mosques to teach people, especially youth, to reject extremist ideas, al-Samarmad said.
These courses encourage Iraqi citizens to increase their support for the security forces and play their part in re-establishing civil peace, he said.