The US Treasury Department has placed sanctions on four men it said were key to Lebanese militia Hizbullah's activities in Iraq, AFP reported Tuesday (November 13th).
Shibl Muhsin Ubayd al-Zaydi, an Iraqi national who heads the Iran-backed Iraqi militia Imam Ali Brigade, and Lebanese nationals Yusuf Hashim, Adnan Hussein Kawtharani, and Mohamed Abdul Hadi Farhat, have been designated as "global terrorists".
The Treasury said al-Zaydi was a key co-ordinator among Hizbullah, Iran's Islamic Revolutionary Guard Corps Quds Force (IRGC-QF) and their supporters in Iraq, and that the other three provided intelligence.
"Hizbullah is a terrorist proxy for the Iranian regime that seeks to undermine Iraqi sovereignty and destabilise the Middle East," said Sigal Mandelker, under secretary of the Treasury for terrorism and financial intelligence.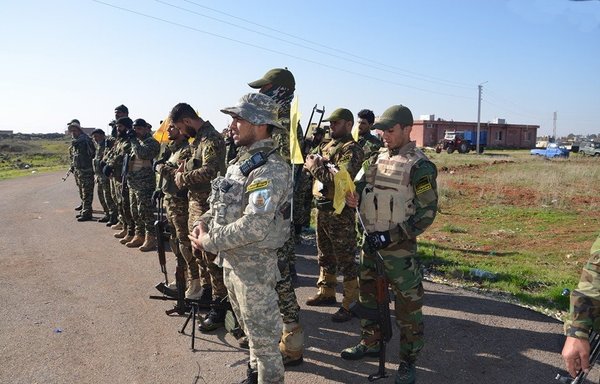 "We are targeting terror facilitators like al-Zaydi who smuggle oil for Iran, raise funds for Hizbullah, and send fighters to Syria for the IRGC-QF on behalf of Qassem Soleimani," she said.
"Treasury's concerted actions aim to deny Hizbullah's clandestine attempts to exploit Iraq to launder funds, procure weapons, train fighters, and collect intelligence as a proxy for Iran," she added.
Financial, operational co-ordination
Al-Zaydi has served as a financial co-ordinator between the IRGC-QF and sectarian armed groups in Iraq and assisted in facilitating Iraqi investments on behalf of IRGC-QF commander Maj. Gen. Qassem Soleimani, the Treasury said.
He was responsible for "transferring large amounts of money to Lebanon to help fund Hizbullah's participation in the Syrian civil war".
He also has co-ordinated the smuggling of oil into Syria on behalf of Iran, and has sent Iraqi fighters to Syria allegedly at the IRGC-QF's request.
Al-Zaydi has appeared publicly with Soleimani at least four times, the Treasury said.
Al-Zaydi has maintained close business ties with Hizbullah officials and Hizbullah financier Adham Tabaja. These activities have included providing protection for companies in Iraq allegedly financed by Hizbullah and facilitating the movement of Hizbullah funding into Iraq for investments.
Yusuf Hashim oversees all Hizbullah-related operational activities in Iraq and is in charge of protecting Hizbullah interests in Iraq, according to the Treasury.
Hashim has also managed Hizbullah's relations with sectarian armed groups in Iraq, including the coordination of the deployment of fighters to Syria.
Adnan Hussein Kawtharani facilitates business transactions for Hizbullah inside Iraq and provides training, funding and political and logistical support to Iraqi militias.
Mohamed Abdul Hadi Farhat was tasked with collecting security and intelligence information in Iraq and subsequently providing reports to senior Hizbullah and Iranian leadership.
'Painful blow'
"The targeting of these individuals is a painful blow to Iranian influence and its subsidiaries, namely Hizbullah and the Iraqi militias," Iraqi strategic and military analyst Rabie al-Jawary told Diyaruna.
Sanctioning Hizbullah operatives "is a natural response to the hostile acts of those recruited by Iran to serve its objectives, which have caused harm to Iraqis and threatened the security of regional countries and the world", he said.
"We expect more Iranian affiliates to be sanctioned, and we hope this is done quickly," he said, as Hizbullah and its armed wing in Iraq as well as other Iran-backed factions, including the Imam Ali Brigades, "must be undermined".
"These militias are active in armed operations that threaten peace and are responsible for committing many crimes and conducting financial and economic activities to sustain their malign influence," said al-Jawary.
"They should not be allowed to continue to exist, and their leaders and senior members should be hit with force," he stressed.