Iraqi army and international coalition artillery units have been pounding "Islamic State of Iraq and Syria" (ISIS) gatherings near Iraq's border with Syria, the Iraqi Defence Ministry said Tuesday (November 13th).
The move follows a Sunday announcement that across the border, the Syrian Democratic Forces (SDF) have resumed Operation al-Jazeera Storm, a campaign to uproot ISIS from the town of Hajin in rural Deir Ezzor province.
At the end of October, ISIS overran SDF-controlled border posts, prompting Iraq, which has a 600-kilometre border with Syria, to deploy additional troops to the area and tighten surveillance to stop extremist infiltration.
"The artillery of al-Jazeera Operations Command and the army's 8th Division, in addition to the artillery of the international coalition forces, have started to hit groups of ISIS elements" on Syrian territory near the border with Iraq, Iraqi Defence Ministry spokesman Maj. Gen. Tahseen al-Khafaji told Diyaruna.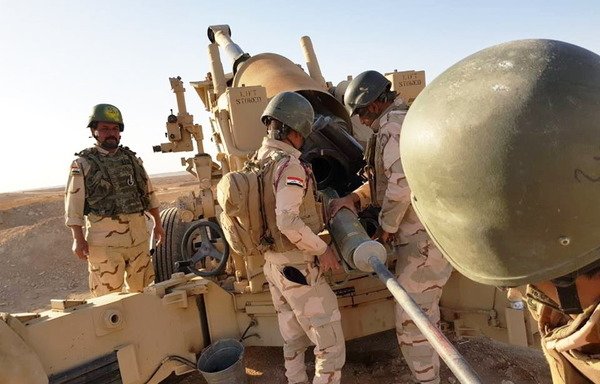 "We have previously issued warnings to the terrorists and warned them through leaflets and messages dropped by our aircraft of the consequences of coming near our borders within a distance that we consider dangerous," he said.
This warning has not been heeded, "and we have therefore hit them and will continue to attack them and not to allow them any presence near our territory".
"We have stated and we reiterate that our borders are a red line, and when we feel that there is a danger, we do our duty and we hit anyone who tries to breach the border to undermine the security of our country," al-Khafaji said.
'Our borders remain secure'
"The Iraqi Joint Operations Command has developed a comprehensive plan to secure the border strip with Syria and the desert areas in the west of the country," al-Khafaji said.
"We can reassure our people that our borders are secure and will remain secure, and all capabilities and required measures for their protection are being used," he said.
"There is effective co-ordination with the international coalition, and through it, with the SDF," he added, noting that there also is co-operation with the Syrian government through the Joint Security Centre.
"The aim of all of these efforts is to fully eradicate ISIS," he said, adding that a military "conclusion" and an end to the ISIS presence is anticipated.
ISIS's movements are being monitored, al-Khafaji said.
"They wanted to take control of oil sources [in the border area] to secure a financial resource for themselves, as well as to maintain contact with the other terrorist organisations," he said.
"But they in fact found themselves in a killing zone and are now trapped," he added.