Iran's Islamic Revolutionary Guard Corps (IRGC) has been taking advantage of the reluctance of internally displaced Syrians to return to the border town of Albu Kamal to settle its own affiliates in the area, a local activist said.
This move in effect creates a demographic change in the town, which is situated directly across the border from the Iraqi city of al-Qaim, as dozens of the families of the IRGC's Lebanese and Iraqi affiliates are now housed in the area.
The opening of several Jihad al-Bina branches in the area is a visible sign of the demographic shift, activist Jamil al-Abed said.
Jihad al-Bina, a foundation run by Lebanon's Hizbullah with direct funding from Iran, has been making "soft inroads" into Syrian society, activists have said.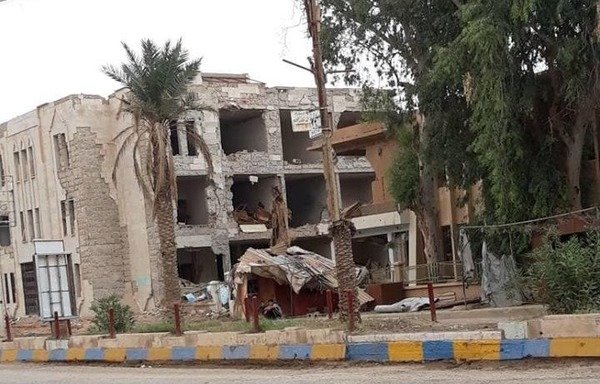 "The IRGC has taken advantage of the reluctance of internally displaced Syrians to return to their homes in Albu Kamal to settle more than 70 Iran-affiliated families in the area," al-Abed told Diyaruna.
The IRGC had paved the way for this settlement by opening a number of service centres, including those affiliated with Jihad al-Bina, husseiniyah clubs and religious guidance centres, he said.
Military barracks also are scattered throughout the residential areas, he added.
The expansion coincides with the withdrawal last month of IRGC-affiliated militias stationed in the area, led by the Fatemiyoun Division, an Afghan militia fighting in Syria under the command of Iranian officers, al-Abed said.
In the aftermath of this move, some of the military barracks in the area were dispensed with in favour of homes in which the families were settled, he said.
Foreign families move in
Most of the families that were settled in Albu Kamal are those of fighters from Lebanon's Hizbullah and Iraq's al-Nujaba Movement, he said, along with some of the families of Afghan and Iranian Fatemiyoun commanders and officers.
The main reason IDPs have refrained from returning, al-Abed said, is because they do not trust the promises made by the Syrian regime: that they would not be subject to security crackdowns or face the risk of random arrest.
"The matter of conscription into the Syrian regime's army and the obligation to complete military reserve service also have most families concerned," he said.
"They also fear potential clashes with IRGC-affiliated militias, as provocations abound and are charged with sectarian tension, which could lead to confrontations with dire consequences," al-Abed said.
Some Albu Kamal residents have sold their homes to brokers, who in turn sold them to elements of Iran-backed militias in what seems to be a deliberate plan to settle in the city on a wide scale, he added.
As a further deterrent to the return of displaced residents, the Syrian regime has prohibited any repair work on homes that suffered wide-scale damage and destruction as a result of the war against the "Islamic State of Iraq and Syria" (ISIS), al-Abed said.