The Syrian city of Kobani celebrated on November 1st the International Day of Solidarity with Kobani honouring its resistance against the "Islamic State of Iraq and Syria" (ISIS).
The event was first observed on November 1st, 2014, to mark Kobani's resistance against ISIS and the heavy losses it inflicted on the group, forcing it to withdraw after it had occupied most of the city.
"This resistance resonated throughout the world, and November 1st was established as an International Day of Solidarity with Kobani after that date in 2014 witnessed marches and demonstrations is support of the city," Kobani resident Hisham Hussein told Diyaruna.
This year the celebration has a special flavour, he said, as it comes on the heels of ISIS's successive losses in Syria and Iraq.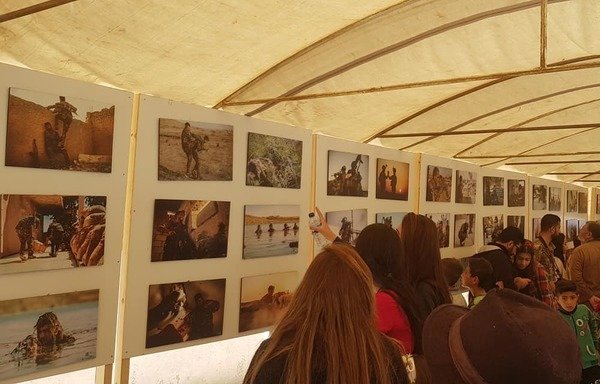 Hussein said he attends the celebration every year as he lost many of his relatives when the group entered the city, some of whom died fighting and others were executed.
Hussein's youngest brother also was arrested by ISIS but was later freed, he said.
"Were it not for Kobani's resistance, no one knows what the situation in the entire region would be like now, and how much killing, destruction and criminality would still be taking place," he said.
Photo exhibit commemorates operations
People from all areas of northern Syria that were liberated from ISIS attended the celebration this year, including political and grassroots delegations from the cities of al-Raqa, Manbij and Tal Abyad.
Representatives of a number of civil society organisations operating in the region and some political parties also were in attendance.
The celebration began with a massive march that started from the Free Women square to the Martyr Akeid square in the centre of the city.
Some of the region's officials gave speeches stressing the need to resist terrorism, and musical ensembles of different ages sang traditional and revolutionary songs.
A photo exhibit held by the Sopdaren Rojê Center witnessed a large turnout, Hussein said.
The exhibit featured photos that document the military operations against ISIS, "not only in Kobani but throughout northern and eastern Syria", he said.
The exhibit included rare photos taken during the battles as well as many others with a humanitarian angle and photos of the martyrs who died in the battles against ISIS.