A new physical rehabilitation centre, the first of its kind to open in Mosul, will treat patients with disabilities on site and provide previously unavailable specialist prosthetic, orthotic and physiotherapy services.
The Ninawa Physical Rehabilitation Centre (Ninawa PRC), constructed over a period of four months by the International Committee of the Red Cross (ICRC), officially opened October 14th.
It will be operated by the Ninawa Directorate of Health.
"Due to the massive destruction of infrastructure and lack of services in Ninawa province, amputees requiring prosthetic limbs had to travel for several hours to Erbil or Sulaymaniyah to receive services," said Therese Powell, the ICRC's physical rehabilitation programme manager in Iraq.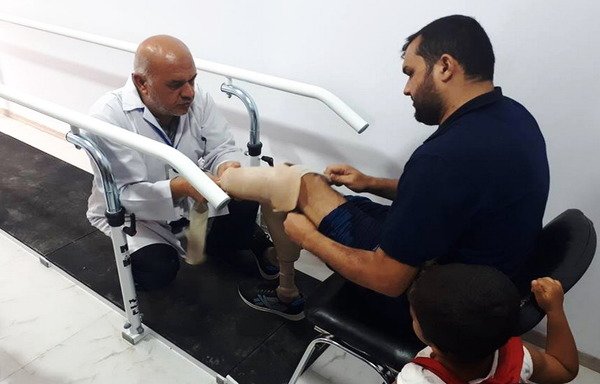 Thousands suffered injuries during the "Islamic State of Iraq and Syria" (ISIS) era and during the battle to oust the group from the province, Iraqi officials said.
Mohammed Jamal, 25, told Diyaruna he lost his right leg two years ago, when an ISIS missile fell near his home in eastern Mosul's al-Zahraa neighbourhood.
The missile struck while he and his family were trying to run towards Iraqi forces who were fighting to recapture the neighbourhood from ISIS, he said.
Jamal said the incident had nearly killed him. Losing his leg was traumatic at first, he said, but he has managed to move on with his life and continue his university studies.
He now hopes the Ninawa PRC will help him to walk without crutches.
"We need the centre," he said. "The terrorists have committed their crimes but they must not take away from us our right to lead a normal life."
Burden of travel eliminated
Ninawa PRC came to fruition as "the result of the joint efforts of the government, local charities and the ICRC", said Muhannad al-Awmari, media officer for the Network of Civil Society Organisations in Ninawa.
The centre will provide prosthetics, healthcare and rehabilitation for around 5,000 amputees, 750 of whom are children, he told Diyaruna.
For over a year and a half, civil society organisations worked to identify and provide first aid to wounded civilians in neighbourhoods across Mosul, he said.
"We would visit them in their homes and meet with them and fill out detailed reports on their condition," al-Awmari said.
"We helped them access treatment by referring them to international organisations such as the ICRC, Doctors Without Borders (MSF) and the International Migration Organisation," he said.
Before Ninawa PRC was opened, he said, residents who lost limbs would travel to Erbil to receive care, shouldering the burden and cost of travel.
"With the opening of the centre in the heart of Mosul, this burden will no longer exist," al-Awmari said.
Standing by disabled Iraqis
Iraqis with disabilities are part of the legacy of "tragedy and crises" ISIS left behind, Ninawa provincial council security committee member Hassan Shabib told Diyaruna.
"Some of these disabled individuals were wounded during the war, while others had their limbs amputated by terrorists as a form of punishment," he said.
"We are focused on taking care of these victims," he said. "The opening of [Ninawa PRC] is a positive step, but we need to provide even more care and support for them."
Victims of the war with ISIS who were disabled must receive support not only in Ninawa but throughout the affected Iraqi provinces, said Ninawa provincial council services committee member Hosam Eddin al-Abbar.
"Before ISIS invaded our cities, we had plans to build a massive and comprehensive complex to care for people with all sorts of disabilities that provided medical, psychological and social support," he told Diyaruna.
"We now know that we need to revisit and implement those plans as soon as possible," he said, adding that people with disabilities should not feel marginalised.
"We have to stand by them and help them build their future and improve their living conditions," al-Abbar said.