In a sign that the corrosive influence of the "Islamic State of Iraq and Syria" (ISIS) is receding, Sufi takiyas -- buildings where religious gatherings are held -- have been reopening in Anbar province, local officials and Sufi scholars said.
Sufism, a form of Islamic mysticism that emphasises introspection and spiritual closeness with God, has among its adherents both Sunnis and Shia.
It came under attack under ISIS rule as the group considered the followers of other faiths, including the sufis, as kuffar (heretics).
The return of takiyas to the province is "a clear sign" of the success of the operations to purge ISIS from the area, Anbar provincial council member Sabah al-Karhut told Diyaruna.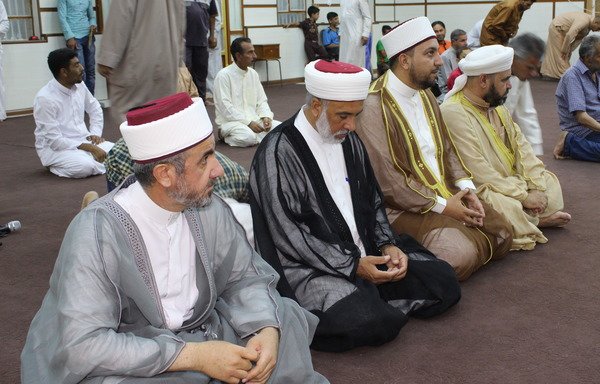 ISIS is "an enemy of the Sufi movement", he said, pointing out that the Sufis are a significant and established part of the province's religious landscape.
Sufism "calls for peace and amity among the Iraqi people", he said, and rejects sectarianism, extremism and violence.
There are areas in Anbar in which the Sufi movement has a strong presence and a strong appeal to residents because of this ideology, al-Karhut said.
A number of Sufis lost their lives during the ISIS era and in the battles to oust the group, he said, adding that ISIS also bombed several takiyas.
ISIS has killed about 44 Sufis and injured 22 others in recent years, said Sheikh Hamadallah Mahmoud, who oversees al-Qadiriya takiya in Fallujah.
The group also destroyed or targeted 30 takiyas in various districts of Anbar, he told Diyaruna.
"Sufi takiyas, including al-Qadiriya, Naqshbandiya, Shadhiliya, Casanzaniya and Rifaiya takiyas [Sufi religious orders], bring people closer together," Mahmoud said.
During their religious gatherings, Sufis "pray for the protection of Iraqis from the evil of terrorism and crime, and call on residents to abide by the law and respect the judiciary", he added.
Performing rituals once more
ISIS labeled Sufis as "apostates" and banned Sufi movements in Anbar under its rule, said Sheikh Khamis al-Mohammedi, who oversees al-Shafeiya takiya in Ramadi.
The extremist group also banned some religious traditions and rituals, such as the duaa (invocation), prayers for the Prophet and the nightly taraweeh prayers during the month of Ramadan, he told Diyaruna.
"The Sufi movement and all religious orders share similar traditions and high ideals that call for brotherhood and unity and reject the ideas of religious extremism and intolerance," al-Mohammedi said.
Takiyas in Anbar are now back to organising religious, cultural and literary festivals, as well as Qur'anic courses, he said, noting that these events are generally open to the public.
They often feature scholars and clerics who address issues of concern to all, he said, including exposing the truth about extremist ideology and calling for peaceful co-existence among all religious communities in Iraq.
Takiyas "follow an important path, namely peace and love", Ramadi resident Haidar Abbas al-Maamouri told Diyaruna.
For this reason, he said, he attends takiyas to perform prayers and religious rituals there.
"Sufis have been the arch-enemies of terrorist groups in past years, because Sufi thought is opposed to the approach and doctrine of terrorism," said security expert and political analyst Hamed al-Akashi.