Regime-affiliated militias have been engaged in fierce fighting over influence and control in the eastern districts of the Syrian city of Aleppo, a local activist said.
The clashes, which have so far killed more than 30 fighters, stemmed from a struggle for control of the eastern districts that was driven by the seizure of the vacant homes of displaced residents, media activist Faisal al-Ahmad said.
Pro-regime militias have been clashing with each other in Aleppo's eastern districts, he told Diyaruna, with the Aleppo-based al-Berri clan on one side and militias from the towns of al-Fuaa and Kafraya on the other.
Tensions between the two sides began to surface in September, he said, about two months after al-Fuaa and Kafraya militias arrived in the area, pursuant to the agreement that called for their evacuation to Aleppo.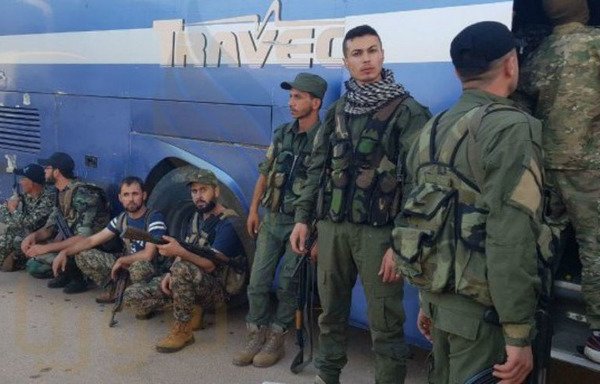 The militias, who brought their families with them, spread out in the city's eastern districts, he said, which angered the local al-Berri clan.
Al-Berri controls Aleppo's eastern districts, based on an agreement struck with the Syrian regime at the outset of the conflict in 2011, al-Ahmad said.
Clan members are known for their support for the regime, and for the role they played in the forced mass displacement of residents from the area during the Battle of Aleppo.
A struggle for control
The situation has spiraled out of control, al-Ahmad said, as al-Fuaa and Kafraya militias brought in reinforcements from outside the region and from militias affiliated with Iran's Islamic Revolutionary Guard Corps (IRGC).
These include Liwa al-Baqir, and the militias of the towns of al-Nubl and al-Zahraa, he said.
More than 30 were killed in the recent clashes, and many others were wounded in direct fighting and shelling between the warring sides, who used heavy weapons to target each other inside the contested districts, al-Ahmad said.
Fighting was fiercest in the city's Hananou housing complex and in the districts of al-Marja, al-Saleheen, Bab al-Nairab and al-Sakhour, he said.
The main reason for the fighting, besides for control of the territory, is to gain control of the houses of displaced Aleppo residents, al-Ahmad said.
It has become clear that the owners and former occupants of hundreds of houses will not return to the city because of the sectarian divisions, he said.
This has emboldened individuals on both sides of the conflict to falsify property documents and obtain court orders and decrees granting them ownership of these houses based on forged information, he said.
These houses are then sold at a profit, he said.